All the attention paid to Donald Trump's tweets isn't turning the social media site's fortunes around — at least not yet.
Twitter has reported its slowest pace of revenue growth since the company went public in 2013, causing its stock price to tank as much as 11 per cent before the opening bell on Thursday. Shares fell more than a dollar-and-a-half, to US$18.11, before bouncing back somewhat.
Twitter is struggling to attract advertisers amid heavy competition from the likes of Facebook.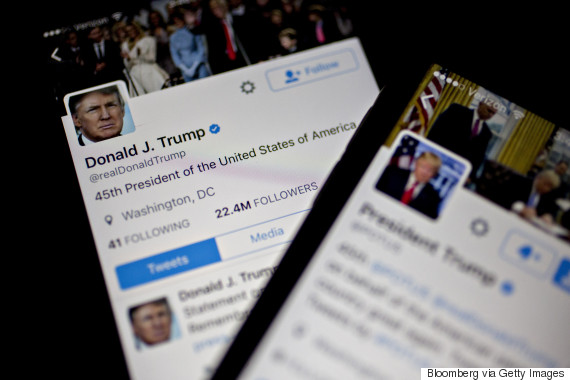 The Twitter accounts of U.S. President Donald Trump, @POTUS and @realDonaldTrump, are seen on an Apple Inc. iPhone arranged for a photograph in Washington, D.C., U.S., on Friday, Jan. 27, 2017. (Photo: Andrew Harrer/Bloomberg via Getty Images)
The social media website says it expects between $75 million and $95 million in adjusted earnings, a far cry from the $191 million Wall Street had been expecting, according to a survey of industry analysts by FactSet.
Twitter Inc. topped analyst expectations with adjusted earnings per share of 16 cents in the fourth quarter, 4 cents better than expected, but that was overshadowed by its outlook.
Some investors hope Trump's constant announcements on Twitter — he has tweeted more than 240 times since he took the oath of office on Jan. 20 — will help the micro-blogging site compete.
But according to statistics obtained by Bloomberg, Twitter use is in decline, with 6 per cent fewer active users this past November than the year before.
Twitter had 45 million unique U.S. users in November, compared to 167 million for Facebook.
— The Huffington Post Canada, with a file from The Associated Press
Follow The Huffington Post Canada on Facebook, Twitter, and Instagram.
Also on HuffPost
Twitter's @MatureTrumpTwts Is The Grownup Trump We Probably Won't Get