The race is a 690-kilometre long trek through the wilderness, where temperatures can fall as low as -40 C — and there's no prize money waiting at the finish line.
That's the deal that the 40 racers participating in the Yukon Arctic Ultra signed up for this year, when agreeing to participate in the longest of a series of races that follows the Yukon Quest dogsled trail.
On Sunday, the racers set off from Whitehorse for Dawson City on foot, skis, or mountain bikes, pulling a sled of supplies behind them.
So far, 14 racers have been forced to drop out due to bitterly cold temperatures, the Whitehorse Daily Star reported.
One of those was Serbian skyrunner Jovica Spajic. Spajic trained for the race by running along mountains at high altitudes, but was forced to stop due to frostbite.
Another dropped out because his supply sled's harness put too much pressure on his ribs, which he had recently broken in a snowmobiling accident.
Andrzej Gondek told National Geographic Poland it was a tough decision, but if something went wrong with his ribs, he couldn't take the risk of being alone on a trail at night in freezing temperatures.
Grueling, dangerous conditions
There's a reason organizers call the marathon "the toughest ultra race in the world."
The trail is marked, but wind and snow can often make the trail markers difficult or impossible to spot. The terrain is rough, and many runners end up forging their way in total darkness.
"Situations which under normal circumstances don't cause any problems can become absolutely life threatening in the dead of winter in the Yukon," the race's website warns.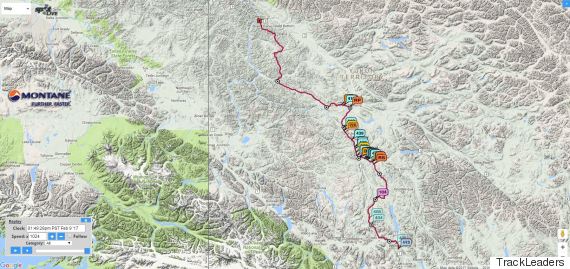 As of Thursday afternoon, only a few racers had made it past the checkpoint at Pelly Crossing on their way to Dawson City. (Map: TrackLeaders.com)
The extreme conditions and solitude can even make runners hallucinate.
Runner Scott Smith told CBC News that during a previous race he saw strange images, including a woman in a dress, demons, and, oddly enough, Woody, the cowboy from Toy Story.
"He stood on the trail, life size, hands on his hips just looking at me. That really freaked me out. It took me several minutes before I could sort my head out and get moving again," Smith said.
"The biggest part of it is mental — and of course we've had cases of frostbite," the marathon's founder Robert Pollhammer told Newsweek.
The first racers are expected to finish sometime early next week.
Follow The Huffington Post Canada on Facebook, Twitter, and Instagram.
Also on HuffPost
The World's Best Marathons