TORONTO — Shopify's CEO is defending the e-commerce company's decision to keep hosting an online store for the controversial right-wing U.S. media organization Breitbart News.
Tobi Lutke posted a statement online Wednesday that says he has received more than 10,000 messages asking the Ottawa-based company to stop hosting Breitbart's online store.
But Lutke says that to do so would be an act of censorship and would interfere with the free exchange of goods that is at the heart of commerce.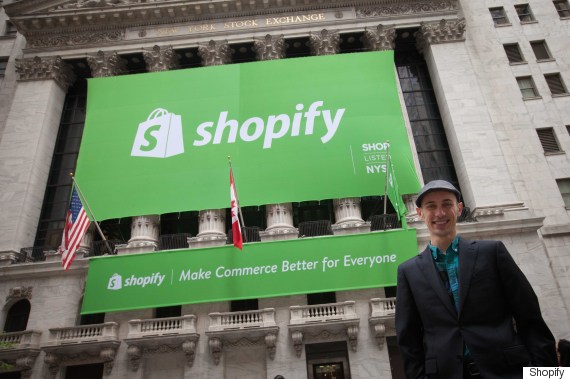 Shopify CEO Tobias Lutke stands outside the New York Stock Exchange on the day the Ottawa-based company went public, May 21, 2015. (Shopify handout photo)
Lutke argues that products are a form of speech and that it's important to defend free speech, even if the company doesn't agree with some of the voices.
Critics have accused Breitbart News of propagating hate speech such as racism and misogyny.
"When we kick off a merchant, we're asserting our own moral code as the superior one,'' Lutke said in the statement.
"But who gets to define that moral code? Where would it begin and end? Who gets to decide what can be sold and what can't? If we start blocking out voices, we would fall short of our goals as a company to make commerce better for everyone. Instead, we would have a biased and diminished platform.''
Follow The Huffington Post Canada on Facebook, Twitter, and Instagram.
Also on HuffPost
The 15 most disruptive technologies of 2025