According to the Recording Academy, the "Hello" singer chose to perform a rearranged version of Michael's song "Fastlove" at the telecast, but her rendition did not go according to plan.
"I know it's live TV, I'm so f--ing sorry, I can't do it again like last year," said Adele, to the audience.
She was referencing her performance of "All I Ask" at the 2016 ceremony, which was marred by technical issues and audio glitches. Then, Adele kept on singing even though she knew something was awry. This time, however, she started over after a short speech to the crowd at the Staples Center in Los Angeles, and those watching at home.
"I'm sorry for swearing, and I'm sorry for starting again, but can we please start it again? I'm sorry, I can't mess this up for him. I'm sorry for swearing, I'm really sorry, I'm sorry Ken."
Later in the night, upon accepting her Song of the Year statue from Céline Dion, Adele took one more opportunity to say sorry for her on-stage flub.
"First of all, I really do apologize for swearing," said Adele. "I mean, it's George Michael, I love him, he means a lot to me, so I apologize if I offended anyone anywhere."
Still, do not feel too badly for Adele. In addition to opening up the show with a performance of "Hello," she also swept the Grammys, and won in each of her categories, walking away with statues for Album of the Year, Record of the Year, Best Pop Vocal Album and Best Pop Solo Performance.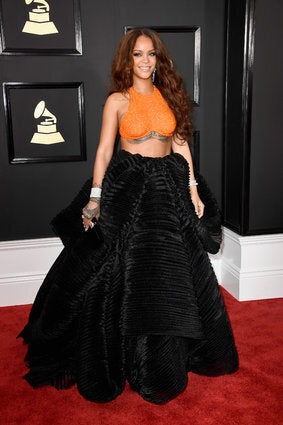 Grammys 2017 Red Carpet Photos