OTTAWA – The deaths of two young recruits at the Canadian Forces Leadership and Recruit School (CFLRS) in the past five months have been ruled as suicide, The Huffington Post Québec has learned.
The situation at the facility in Saint-Jean-sur-Richelieu, Que. has the federal government gravely concerned. The school conducts basic training for both officers and non-commissioned members of the Armed Forces. "Every year, more than 4,000 people star their military career at CFLRS," says its website.
"We are obviously concerned about the situation," said Jean Rioux, parliamentary secretary to the defence minister and MP for the area. "I was at the school [on Thursday], on the base where it happened. It is of course a tragedy for the family, the community and the Armed Forces."
The two Quebec cases are in addition to the sudden deaths of five other students or recent graduates at two military colleges over the past nine months, without ever having been deployed.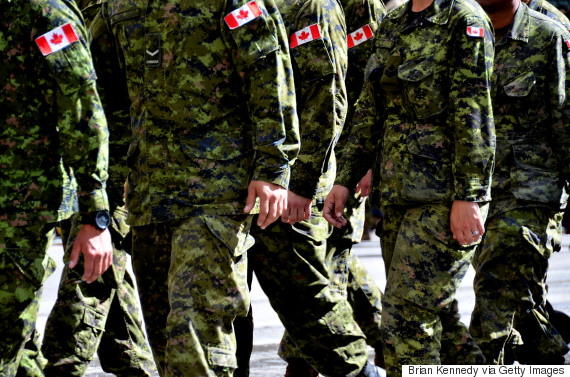 Dylan James Barclay, 23, enrolled in the Armed Forces on Jan. 17, in the hopes of becoming a web developer or a technician for the army, according to friends who attended Algonquin College in the Ottawa area with him.
Classmates described Barclay as funny, intelligent and rather quiet, and noted that he liked playing video games. None of them believe his death could have been a suicide.
"I never saw him depressed, just quiet. You could never guess what he was thinking, his emotions were hard to read," said one of his friends who had been his classmate for a year at the college.
"I'm in shock... I'm in shock that he's dead," said another.
They both asked that their names be withheld so as not to interfere with the pending investigation.
Inquiry will be held
A witness to the scene, who is not authorized to speak to the media, confirmed that Barclay threw himself from an eighth-storey window of the building where the recruits are housed in the evening of Jan. 28, shortly before the beginning of the morning routine.
Barclay had only been in training at the CFLRS for five days.
His obituary — which mourns a "precious, youngest son" and "dearly loved little brother" — states that he died "tragically, while training." He was given a private military service.
As is the case for all non-deployed soldiers, the Armed Forces will open an inquiry into the circumstances of the death. In the meantime, they will provide "direct support to the family during this difficult time."
"We are saddened by the sudden and tragic death," spokeswoman Lt. Christine Hurov said in an email. "We have extended our sincerest condolences to his family and friends."
Rioux remained cautious in his comments about recent deaths at the Quebec training school: "Following the investigations, steps will clearly need to be taken," he said.
2 cases in 5 months
This is the second time in five months that the CFLRS has seen a death during the "indoctrination period," the first five weeks where recruits are not allowed to leave the military base.
Last September, Michaël Pinel-Duquette, 19, was found dead in his room during his second week of training. He had been placed in isolation due to a cold.
He hung himself, according information confirmed with a member of his family.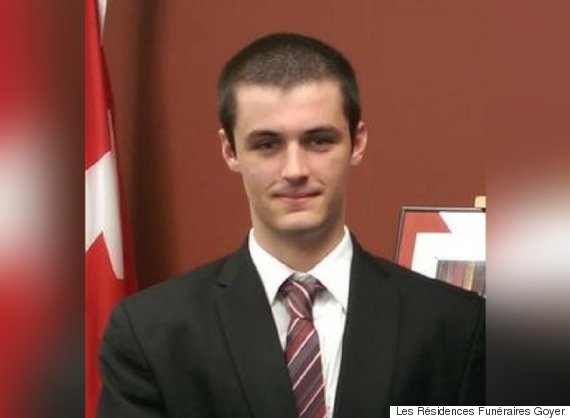 Michaël Pinel-Duquette, seen in a photo published with his obituary, was 19 when he died.
Pinel-Duquette enrolled in the Forces in the hopes of becoming a tank driver and to help his father, Carole Duquette told HuffPost in a series of written exchanges. Michaël — who was her niece's son, and was very close to her and her daughter — spent summer vacations with them.
"He was proud to have got there, despite having made tremendous sacrifices. He knew he would have a great life to offer his future family, and he had big plans with my daughter, full of dreams," she wrote. "He didn't believe suicide was an option in life."
However, Barclay found it hard to be isolated and to have to miss a significant part of his training, she said. "[He] didn't know how he was going to make up all that he was missing."
Other deaths
The military is already investigating the sudden deaths of three cadets from the Royal Military College in Kingston, Ont. between May and August 2016. Harrison Kelertas, 22, and Brett Cameron, 20, died on campus within days of each other, while 19-year-old Matthew Sullivan died in August in Saint John, N.B.
Officials have not confirmed the cause of death in any of the cases, though suicide is suspected.
In November, Capt. Vanessa Chamberland, 27, was found dead in Kingston, Ont. She ran a squadron of student officers at the Royal Military College in Saint-Jean-sur-Richelieu, reported La Presse.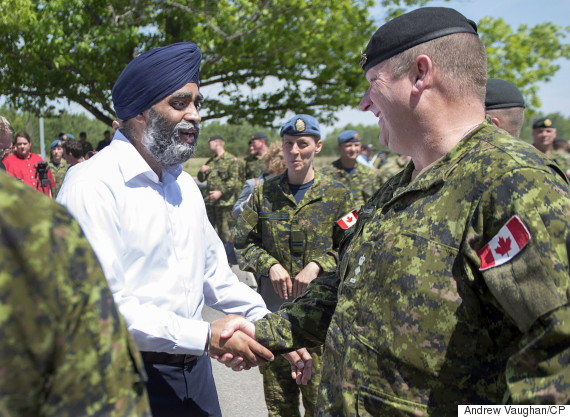 Defence Minister Harjit Sajjan takes the mental health of Canadian military seriously, said his office. (Photo: Canadian Press)
Defence Minister Harjit Sajjan stated that any death in the Armed Forces was "tragic" and said he was prepared to consult with Canadians on the issue of mental health, once the review of Canadian military policies was complete.
"The minister takes very seriously the health and wellbeing, especially mental health, of our men and women in uniform, and as a former soldier and first responder, he understands the need to ensure we have all the right resources in place to support our people throughout their careers and after they leave the CAF," his press secretary Jordan Owens said.
Questions raised by the opposition
Opposition parties have urged the government to interrogate both the chain of command and instructors at the CFLRS to find out why the deaths happened only a few days after the beginning of classes.
Pierre Paul-Hus, Conservative defence critic and a former Armed Forces lieutenant colonel, believes this number of sudden deaths or suicides in such a short period of time is "unheard of" among recruits who have never been deployed overseas.
"I find it very difficult to understand, because there is no type of post-traumatic situation. You have just completed a long process and you should be happy to have got there [to the school] ... and then you commit suicide. It's very strange," he said in an interview.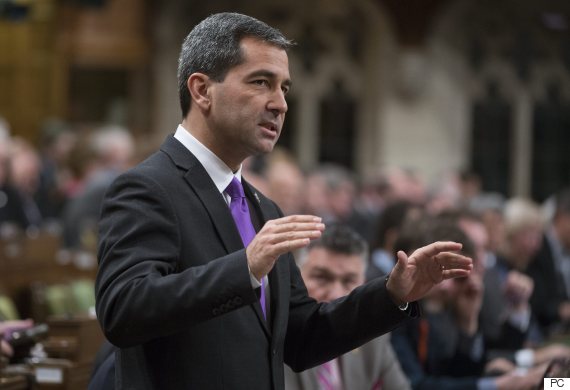 Conservative defence critic Pierre Paul-Hus said the deaths are "very difficult to understand." (Photo: Canadian Press)
Michel Boudrias, the defence critic for the Bloc Québécois and a former military instructor, explained that recruits are expected to complete "many evaluations" in the first two or three days of training.
They must write a 750-word autobiography that can be useful in detecting potential suicide risk, said Boudiras, who considered it his "duty" to read them all.
"If mistakes were made in terms of responsibility for the command, which is highly possible, I expect there would be a proper administrative review, to shed light on the situation," he said.
The Canadian Armed Forces state that recruits have access to help from the beginning of their training. Here are some examples of courses given in Basic Military Qualification:
Chaplain's hour: Day 1
Health promotion: Week 1
Suicide awareness: Week 1
Alternate conflict resolution: Week 2
On the way to mental preparedness: Week 2
Harassment prevention: Week 2
Anne Minh Thu Quach, the NDP critic for Youth, believes Defence should look into the situation of at-risk youth as part of its studies on mental health.
Boudrias pointed out: "There are many, many resources available. But even with responsible leadership, with every effort made in terms of supervision, and with all safeguards in place, we can't prevent someone from acting if they have made up their mind, either."
Paul-Hus said the Armed Forces should not lower current standards for new recruits.
"When you're in the military, you're in the military," he said. "The goal of basic training is precisely to see if you have the capabilities to be one day sent on a mission overseas and experience combat situations."
With a file from The Canadian Press
CORRECTION: Dylan Barclay died in the evening of Jan. 28, 2017, and not at 4:30 a.m. as previously reported.
Also on HuffPost:
Youth Mental Health Issues And Suicide In Canada