Kinder Morgan's Trans Mountain pipeline expansion will, when complete, triple the amount of oil that moves through Alberta's Jasper National Park.
Attendees to the project's open house in Jasper on Jan. 26 were told by a Trans Mountain employee that no pipeline leaks or spills had ever happened in the park, the Jasper Fitzhugh reported.
Later, Kinder Morgan Canada's vice president of operations confirmed to the paper that there have actually been six spills in the park since 1954. He explained the employee had made an error.
However, the history of spills on the pipeline is much larger.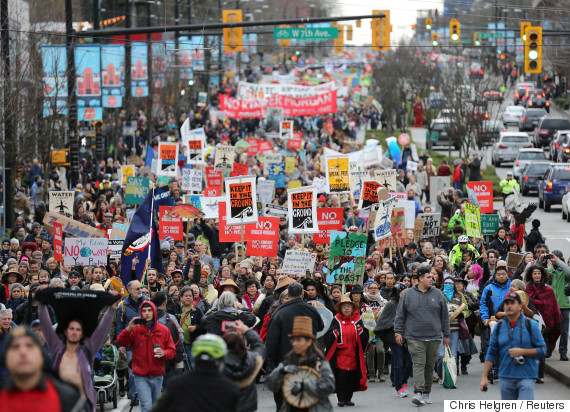 Protesters march against the proposed expansion of Kinder Morgan's Trans Mountain Pipeline in Vancouver on Nov. 19, 2016. (Photo: Chris Helgren/Reuters)
Since 1961, the company has reported 82 spills or leaks to the federal government along the Trans Mountain pipeline route. While contaminated water or condensate made up a few of those spills, the majority were crude oil. One in three spills occurred along the length of the pipeline, while the others happened at pump stations and terminals.
The company's second largest spill happened just outside the national park in 1966, when 6,981 barrels of crude (1.1 million litres) leaked.
In 1973, 786 barrels (125,000 litres) of crude oil spilled into the park for over 12 hours until the leak was spotted by a Canadian National Railway employee, according to a report on the history of the pipeline commissioned by the City of Vancouver.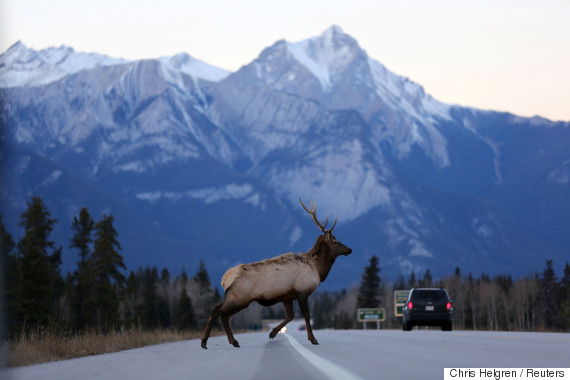 An elk crosses the Yellowhead Highway, a route roughly followed by Kinder Morgan's Trans Mountain pipeline in Jasper National Park, on Nov. 14, 2016. (Photo: Chris Helgren/Reuters)
Out of the 11,000 sq.-km. of wilderness that makes up Jasper National Park, 97 per cent is protected. The park is part of a UNESCO World Heritage Site, and is also home to four National Historic Sites, and dozens of at-risk species.
The Trans Mountain employee's claim isn't the first time supporters of the pipeline have tried to downplay its history of spills.
In May of last year, Calgary professor Duane Bratt wrote an opinion piece for CBC News, in which he claimed there had never been a spill or leak along the pipeline's route. The media corporation later issued a correction.
B.C. non-profit Conversations for Responsible Economic Development (CRED) assessed the risks of the pipeline's expansion in 2016. It noted that "some spillage is inevitable" with pipelines, but that Kinder Morgan has accrued a "significant number of spills, largely the result of human error." The group questioned whether the benefits of the pipeline offset the risks.
The pipeline's expansion is projected to cost $6.8 billion, and the company says it will create 37,000 direct and indirect jobs.
Kinder Morgan will begin construction on the pipeline in September.
Follow The Huffington Post Canada on Facebook, Twitter, and Instagram.
Also on HuffPost
Vancouver Kinder Morgan Pipeline Protests