Wayne's Cup is more than just a coffee shop. While the Markham, Ont., café is fully-functioning, serving coffee, treats and sandwiches daily, it also serves as a life skills centre for adults with special needs.
"The idea is for them to have fun, and to get a real sense of belonging and purpose to their life," founder Shelley Daffu told Global News.
The café opened in 2015 and was named after Daffu's 25-year-old son, Wayne, who has epilepsy and is developmentally delayed. Daffu was inspired to create the café after it became difficult to find continuous education programs for Wayne.
She also realized that he needed "something meaningful."
"When he's learning, he's happy," she told YorkRegion.com.
At Wayne's Cup, not only do the adults learn job-related skills such as customer service, but they learn life skills too. This includes personal hygiene, money management, household chores and self-acceptance.
"The primary goal for students working in our café is to equip them with all the necessary skills should they wish to follow a career in the food service industry," the café's website reads. "We strongly believe this program will give them the tools to successfully achieve this."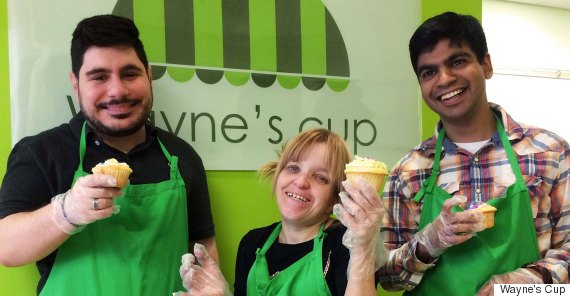 The non-profit café runs half-day programs for adults with special needs where they are taught both job and life skills together.
"We try to have fun whilst equipping students with the necessary skills to give them a better quality of life," the site reads.
Speaking about the positive impact the café has made, Daffu told City News last year: "They've made massive changes in their lives. They've matured. They've showed that they can do a lot more when they are given the opportunity."
While Wayne's Cup is the only known Canadian café geared towards helping adults with special needs, a Toronto Starbucks previously made headlines when it hired a teen with autism.
The teen, Sam, was hired last year despite the fact that he was diagnosed with autism and a movement disorder which makes it difficult to keep his body still. Pretty soon, Sam became an online sensation after a video of him serving a customer went viral. He is now known as the Dancing Barista.
After he was hired at Starbucks, he reportedly told his parents his life had "real meaning."
This sense of purpose is essentially what Daffu is trying to create for adults at Wayne's Cup, as well as a place of belonging.
"This is the way that these guys are going to be able to grow, and be involved with community," she said of the café. "When they get up in the morning, they know they have a place where they belong."
Also on HuffPost
Mom Turns Kids With Special Needs Into Superheroes in Breathtaking Photos