On Instagram, the 32-year-old actress dedicated separate posts to her fiancé Jason Sudeikis and their two kids, two-year-old Otis and four-month-old Daisy.
All three photos were captioned with a simple heart emoji, and while they were all incredibly sweet, it was Wilde's latest photo with her baby girl that really captured our hearts.
In the snap, the "Vinyl" star is seen giving Daisy a sweet kiss on the head as the baby girl looks wide-eyed at the camera.
Wilde has only shared a handful of photos of her baby girl since giving birth in October. The last time we saw a photo of Daisy was two weeks ago, when the actress posted an adorable snap in honour of the Women's March in Washington, D.C.
Wilde has always been open and honest about motherhood. Before her daughter was born, she revealed that motherhood made her "a better human being."
"It's made me a better artist, it's made me a more grateful person, a more tired person," she said last February at the Unite4: Humanity gala, where she was being honoured for her philanthropic work.
"Everything it does to every single mother. That's the most amazing thing about it," she continued. "You become a mother and you go through kind of the same experience. I kept thinking about that during child birth and I think about it every day since. It's just something that unites us and that's a really, wonderful, powerful thing."
Wilde wasn't the only celebrity to celebrate Valentine's Day with her kids. Flip through the slideshow below to see more sweet snaps from famous parents.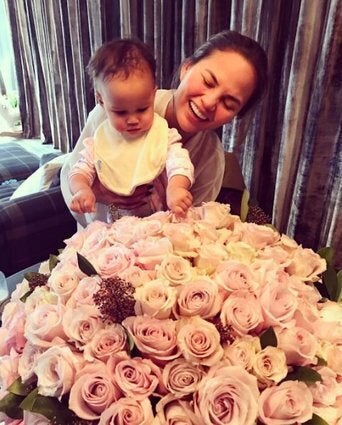 Celebs And Their Kids Celebrating Valentine's Day 2017