OTTAWA — The mother of a young military recruit who killed himself last month at the Canadian Forces Leadership and Recruit School in Saint-Jean-sur-Richelieu, Que., says her son asked for help but didn't receive the attention he needed.
"I want to protect his memory and I want [the public] to know what really happened because... someone failed. I'm doing it for him," Fiona Barker told The Huffington Post Québec Thursday.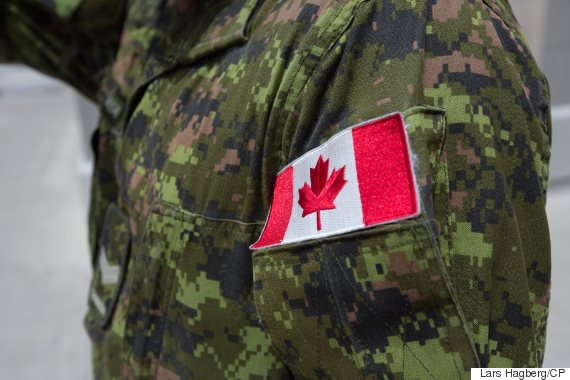 A Canadian flag is seen on the sleeve of a Canadian soldier in Kingston, Ont., on June 1, 2016. (Photo: Lars Hagberg/CP)
Twenty-three-year-old Dylan James Barclay was sent to a local suicide prevention centre, near the military base, on Friday, Jan. 27, his mother said. He stayed overnight but returned to the military's basic training centre the next day. He was found dead at the school less than 24 hours later on Saturday, Jan. 28, at 5:37 p.m. after he threw himself from an eighth-storey window of the building where the recruits are housed.
Barclay was only at the Saint-Jean Garrison for five days, according to Christine Hurov, a spokesperson with the Canadian Armed Forces.
Barker said the Forces have been providing her with some support since her son died and she's been told an inquiry will be performed to understand the circumstances surrounding his death. But she said she is frustrated that she hasn't been given more details for now.
"All I know is my child cried for help and no one helped him, so the public needs to know this."
"He asked for help, they took him [to the suicide prevention centre] Friday night and he was supposed to be assessed in the morning and brought back… but they're not telling me anything. They don't know if he was assessed, they don't know when he was brought back. Well, they do, but they're not telling me," she said.
"All I know is my child cried for help and no one helped him, so the public needs to know this. Someone failed. Big time."
Once the inquiry is underway, Hurov said, the family will be kept informed of the latest developments.
Hurov would not say if or why Barclay was sent to the Suicide Prevention Center of Haut-Richelieu. The school and the centre have an agreement to help recruits in need.
Second death in 5 months
The centre's executive director, Danielle Chrétien, also declined to say why Barclay was released after spending one night in their care.
"I cannot comment on this," Chrétien told HuffPost.
Hurov said there are many pathways to help a recruit in need. Aside from the suicide prevention centre, a recruit could have been redirected to the chain of command, the chaplain, the nearest hospital or even the police, she said.
This is the second time in five months that a young recruit has committed suicide during the "indoctrination period" at the Canadian Forces' school. During these first five weeks, recruits are not allowed to leave the military base.
Last September, Michaël Pinel-Duquette, 19, was found dead in his room during his second week of training.
Also on HuffPost:
Youth Mental Health Issues And Suicide In Canada