Conservative leadership candidate Kevin O'Leary says criticizing U.S. President Donald Trump and his policies is fair game — just not in his first 100 days.
Appearing in a CNBC segment on Friday, O'Leary locked horns with fellow "Shark Tank" star Mark Cuban over comments he made about Trump on Twitter.
In a series of tweets, the Dallas Mavericks owner said Trump had no leadership skills or self-awareness and did not have the capacity to admit his mistakes.
4) Trumps biggest issues are: No self awareness, no situational awareness, can't admit mistakes, no leadership skills, can't stay focused

— Mark Cuban (@mcuban) February 17, 2017
"Don't shoot the messenger," O'Leary began.
"There's many people who feel you are disrespecting the office of the president of the United States. I'm just telling you what they're telling me. In the elevator, at the airport, they're using me as a messenger."
Cuban fired back saying he's disrespecting the president himself, and not his office.
Watch the segment below:
"Let's just be real, everything I've said is absolutely true. He's oblivious, he won't accept mistakes, he's shown no leadership qualities whatsoever," Cuban said.
Later in the segment, O'Leary says though he disagrees with some of Trump's policies, notably his executive orders on immigration, he finds it "very unfair" to criticize any president in their first 100 days.
"Ho ho ho! Welcome to the United States of America, buddy!" Cuban said, adding that citizens have the right to stand up for what they believe in.
Carte blanche?
The battle between the two Sharks then took a more Canadian turn. Cuban implored O'Leary to tell viewers what he loved most about Canada's parliamentary system.
The Tory leadership candidate said the Canadian and American systems are similar, and both have their checks and balances. O'Leary added the parliamentary model provides more power to the prime minister only until his or her caucus disagrees.
That wasn't the answer Cuban was looking for.
"What you liked about it is that you get carte blanche," he fired back.
O'Leary disagreed, calling Cuban's statement an unfair criticism of Canada's parliamentary system.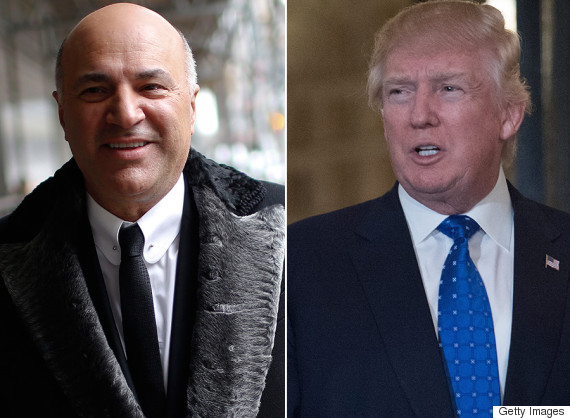 Conservative leadership candidate Kevin O'Leary has been likened to U.S. president Donald Trump, but he insists they are nothing alike. (Photo: Getty Images)
Though O'Leary has been compared to Trump several times before and after his entry into the Conservative leadership race, he's insisted the only similarities between the two lies in their reality TV backgrounds.
If anything, O'Leary has said his position makes him more prepared to deal with the president than Prime Minister Justin Trudeau.
"I've spent my whole life as an investor; I know what Trump does, he knows what I do," O'Leary told The Canadian Press in January.
"I think we'll be very good together getting deals done because that's what matters."
O'Leary joined a crowded field of 13 other candidates vying to replace the party's interim leader, Rona Ambrose. So far, he's only participated in one official debate with his fellow contenders.
The candidates meet again on Feb. 28 in Edmonton. The party chooses its next leader in May.
Also on HuffPost
Conservative Leadership Candidates