UFC president Dana White says the deal is done. Georges St-Pierre says nothing official yet. GSP's cage comeback continues to be a windy road, it seems.  Speculation has been mounting in recent days that the former UFC welterweight champion is about to end his hiatus from mixed martial arts and return to action. On Friday, White confirmed it to the Los Angeles Times. "He's back. I'm excited," White told the newspaper. "We worked at it for a long time and finally got it done." But St-Pierre (25-2-0) was not willing to jump back on the bandwagon quite yet. "Nothing official yet," the Montreal fighter told The Canadian Press via text. "No opponent, no date."
#gspisback @GeorgesStPierre pic.twitter.com/xjR1ghkK0h

— Dana White (@danawhite) February 18, 2017
St-Pierre has cited ups and downs over the last six months in negotiations with the UFC, saying he has learned from the past "to not be too excited for nothing." Welterweight champion Tyron Woodley is due to fight Stephen (Wonderboy) Thompson in a title rematch on March 4 at UFC 209, so St-Pierre would have to wait his turn to get his 170-pound title back. White told the Times that St-Pierre had also talked about dropping down to lightweight (155 pounds), a division that now belongs to mega-star (The Notorious) Conor McGregor. The 35-year-old St-Pierre has not fought since Nov. 16, 2013, at UFC 167 when he won a narrow decision over Johny (Bigg Rigg) Hendricks for his 12th straight victory. A month later, he announced he was vacating his title and stepping away from the sport.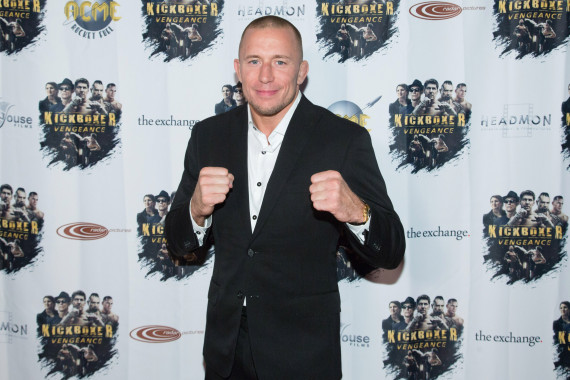 Georges St-Pierre retired in 2013. (Photo: Getty)
Citing the pressures of being champion and of being in a constant limelight, St-Pierre said his life has become "completely insane" and a "freaking zoo." St-Pierre has travelled the world since, but kept training and never shut the door on a return — even when he tore his anterior cruciate ligament and had to undergo surgery. He has sparred with the UFC over drug-testing and declared himself a free agent last October, citing failed negotiations with the UFC's new ownership. In November, he was also one of the marquee names behind the Mixed Martial Arts Athletes Association, formed to protect UFC fighters and help get them their fair share of the sport's revenue. The UFC could use St-Pierre, with McGregor awaiting the birth of his child and Ronda Rousey's future up in the air. In his heyday, St-Pierre was a pay-per-view magnet. GSP's return would also pump life into the sport in Canada, which has seen fewer live shows in recent years.   Follow @NeilMDavidson on Twitter
Also on HuffPost
Georges St-Pierre vs. Johny Hendricks