Swedes have been scratching their heads and ridiculing President Donald Trump's remark that suggested a major incident had happened in Sweden.
During a rally in Florida on Saturday, Trump said, "Look what's happening last night in Sweden," as he alluded to past terror attacks in Europe.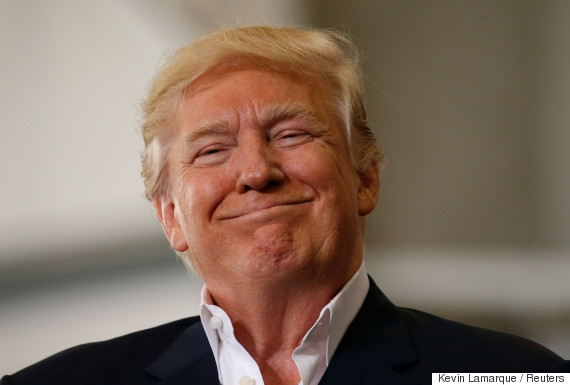 U.S. President Donald Trump smiles a as he holds a rally at the Orlando Melbourne International Airport in Florida on Feb. 18, 2017. (Photo: Kevin Lamarque/Reuters)
After announcing that the White House planned to renew its efforts to restrict immigration, Trump cited several European countries and cities that he said showed the dangers of admitting immigrants, particularly refugees.
"You look at what's happening in Germany, you look at what's happening last night in Sweden," Trump told a large crowd of supporters in a hangar at the Orlando-Melbourne International Airport. "Sweden. Who would believe this? Sweden," he added. "They took in large numbers. They're having problems like they never thought possible."
Trump's subsequent remarks made clear he was referring to European locales that had endured terrorist attacks in the past two years.
Former Swedish Foreign Minister Carl Bildt tweeted: "Sweden? Terror attack? What has he been smoking? Questions abound."
"You look at what's happening in Germany, you look at what's happening last night in Sweden."
— Donald Trump
The comment has prompted a barrage of sarcastic social media reaction on Sunday.
#TrumpRally #swedishincident
Maybe there *was* an attempted attack in Sweden but it was thwarted by their counter-terrorism measures ...... pic.twitter.com/owAdUmGm8B

— Smile & Nod Politely (@mrbimler) February 19, 2017
UNCOVERED: plans for terrorist attack in Sweden last night.

RT because the fake news MSM wont report it!#swedenincident

via @LiogaYukla pic.twitter.com/aK8y7Ex8x8

— The Hummingbird (@Alifaith55) February 19, 2017
Live camera footage from the #swedishincident; our prayers go out to them. pic.twitter.com/yyeAmP2lVY

— A Very Angry Hobbit (@VeryAngryHobbit) February 19, 2017
Aftonbladet newspaper listed in English some events that had happened Friday in Sweden, including a man being treated for severe burns, an avalanche warning and police chasing a drunken driver.
Trump's White House has now made up three terrorist attacks to sell their #MuslimBan

1. Bowling Green
2. Atlanta
3. Sweden

— Zac Petkanas (@Zac_Petkanas) February 19, 2017
Others concluded that Trump had been referring to a segment on the Fox News show "Tucker Carlson Tonight," which explored an alleged rise in crime following Sweden's admission of a large number of refugees from Africa and the Middle East.
turns out "what happened last night in Sweden" actually just means "last night I was watching Tucker Carlson talk about Sweden" pic.twitter.com/6z5pfOJ7Yv

— Ashley Feinberg (@ashleyfeinberg) February 19, 2017
With files from Daniel Marans
Also on HuffPost
Best IKEA Hacks For Kids' Rooms!