Angelina Jolie taught her kids how to eat bugs like a pro because she's a cool mom.
During a weekend trip to Cambodia, the 41-year-old actress appeared on BBC News with her six kids and showed them how to cook up scorpions, tarantulas and other bugs.
"You start with crickets and a beer, and then you kind of move up to tarantulas," Jolie is heard saying in the BBC clip.
"You want to share a spider?" - Angelina Jolie cooks bugs in Cambodia 🕷https://t.co/5mSi3VNErT pic.twitter.com/OZ12DjpyJD

— BBC News (World) (@BBCWorld) February 20, 2017
In the video, eight-year-old twins Vivienne and Knox are seen removing the fangs of a tarantula before their mom fries them up.
"It's like dry chips; like flavourless chips," Knox says after trying the bugs.
Jolie and her children were in Cambodia to attend the world premiere of her film "First They Killed My Father," which she directed. The actress' eldest kids, 15-year-old Maddox and 13-year-old Pax, were both involved in the production of the film.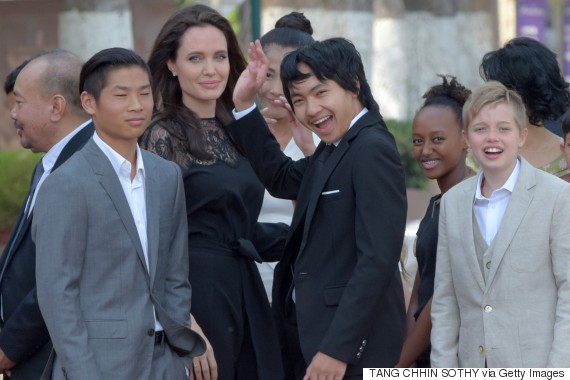 Angelina Jolie and her children (left to right): Pax, Maddox, Zahara and Shiloh.
At the premiere on Saturday, Jolie also mentioned her personal connection to the country. "Without Cambodia I may never have become a mother," she said. "Part of my heart is and will always be in this country. And part of this country is always with me: Maddox."
Maddox, who was the actress' first child, was born in Cambodia. Jolie adopted him from the country in 2002.
It was a family affair for #AngelinaJolie at the premiere of her new movie in Cambodia. Maddox, Pax, Zahara,Shiloh, Knox & Vivienne all came pic.twitter.com/DvgzAZNZb3

— B. Scott (@lovebscott) February 18, 2017
This was the first public appearance Jolie has made with her kids — Maddox, Pax, Zahara, 12, Shiloh, 10, Vivienne and Knox — since filing for divorce from Brad Pitt. Speaking to BBC about her split, she maintained that her children are her top priority.
"My focus is my children, our children," she said. "We are and forever will be a family and so that is how I am coping. I am coping with finding a way through to make sure that this somehow makes us stronger and closer."
Also on HuffPost