Although he is sad that someone has twice beheaded the Jesus statue in front of his church, one Indiana pastor can joke about the vandalism.
"Someone needs Jesus, that's for sure," he told WXIN. "And not just his head, that's the truth."
Pastor Brad Flaskamp and his congregants are again trying to figure out who hacked the head off of their Lord and Saviour, who stands outside Cottage Avenue Pentecostal Fellowship in Indianapolis.
It first happened earlier this month, but the culprit left the head sitting beside the statue, Flaskamp told WXIN.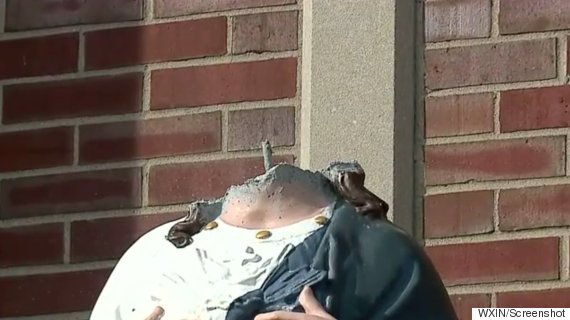 Jesus' head had just been reattached when someone knocked it off again. (Photo: WXIN/Screenshot)
On Saturday, the woman who donated the sculpture reattached the head. She planned to repaint it Sunday, but by then it was gone, he told the Indianapolis Star.
Building co-owner Dave Fishburn told WISH-TV the hand-painted, intricate sculpture could cost the church up to US$5,000 to fix.
He's also angry about the message the vandalism sends.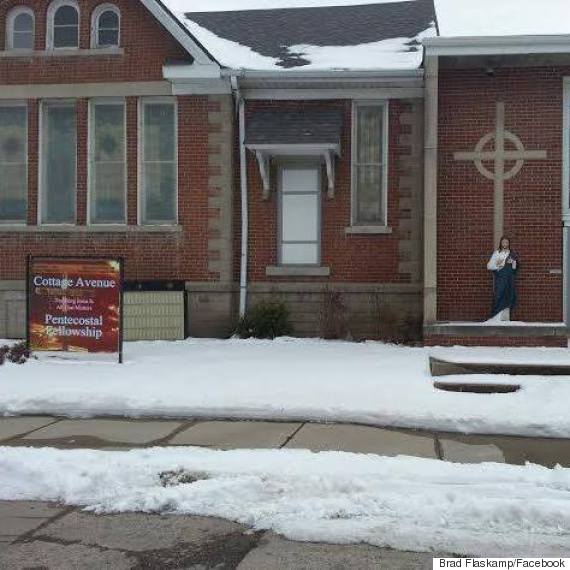 Jesus in better days. (Photo: Brad Flaskamp/Facebook)
"Jesus suffered enough. I know this is just a statue, but it still represents what we're all here for. He's our saviour," he said.
Indianapolis Metropolitan Police are investigating, but have no leads yet, they told the Star. They've also reported it to the Federal Bureau of Investigation, but haven't said whether they think the incident fits the FBI's hate crime description.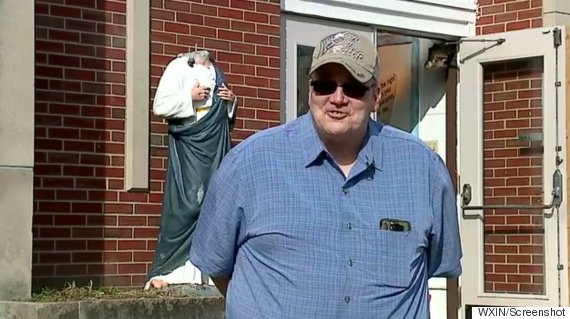 Pastor Brad in front of vandalized Jesus. (Photo: WXIN/Screenshot)
Flaskamp told WXIN he doesn't think kids are responsible, saying they'd have to be able to wield a sledgehammer.
But if all goes well, he'll not only have the head returned, but a new member of his congregation.
"I'd say we love you, we'd love to have the statue head back and we'd love to have you in our church."
You can see more on the story in the video above.
Follow The Huffington Post Canada on Facebook, Twitter, and Instagram.