A snow sculpting contest on a Nova Scotia First Nation was not only an opportunity for one family to build a powerful memorial to a slain relative, but also to cast a spotlight on Canada's missing and murdered indigneous women.
Mirya Obomsawin's grandmother was inspired by something in her home for the competition on the Indian Brook First Nation — Sipekne'katik First Nation in Mi'kmaq.
"She has a candle holder and it has the three women sitting around it with their legs crossed," Obomsawin told The Huffington Post Canada on Wednesday. "She's the one who said it could represent missing and murdered indigenous women."
(Watch an interview with Obomsawin in the video above.)
She and her mother spent the weekend crafting the sculpture out of snow in the front yard. The three women are all wearing red dresses, a reference to the REDress project — an art exhibit that hangs red dresses to draw attention to the gendered and racial nature of crimes against aboriginal women in Canada.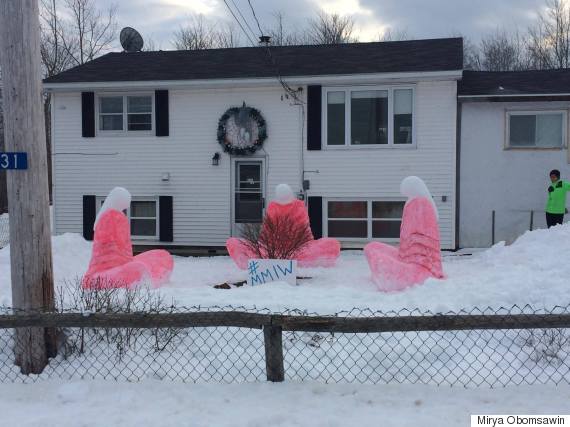 Mirya Obomsawin and her mother built these sculptures to honour missing and murdered indigenous women. (Photo: Mirya Obomsawin)
Obomsawin's grandmother's sister was killed in 1975 in the United States. Anna Mae Pictou-Aquash was a protester with the American Indian Movement, an indigenous civil rights campaign. She was found shot in the head in rural South Dakota.
"She's my great aunt but I never had a chance to meet her," Obomsawin said. "Ever since that happened, [my grandmother] has been involved in speaking out about missing women. It's always been happening. Just now they're talking about it more, but it's always been around."
Just in case the snow melted or the judges didn't have enough time to go around to every house, Obomsawin snapped a photo on her sculpture and posted it on Facebook. It struck a chord, and was shared thousands of times on the social networking website.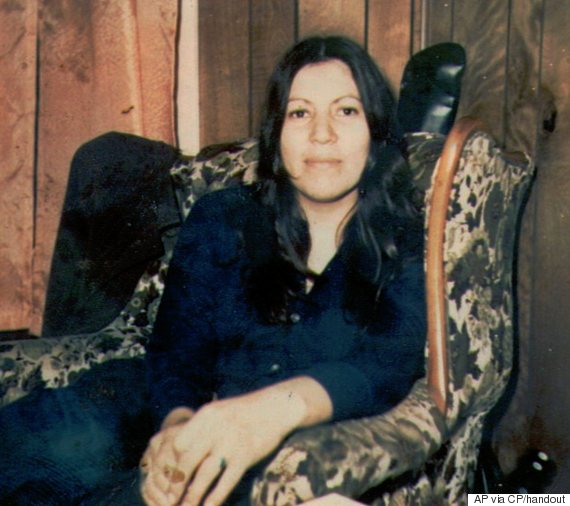 Annie Mae Pictou-Aquash was killed in 1975. (Photo: AP via CP/handout)
"I'm still in shock from the response I've been getting from it," she said. "Everybody from the States and out West are saying how beautiful it was, and [they] thank me for making it. And I was like, 'Wow, OK.'"
The sculpture didn't win the contest, but Obomsawin says the response is reward itself.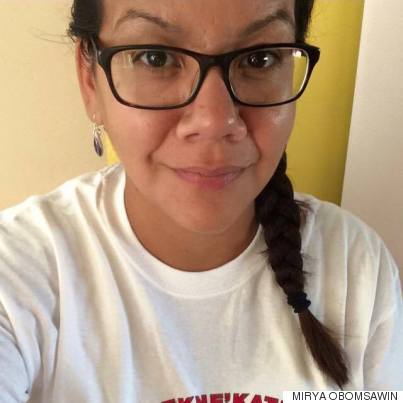 Mirya Obomsawin worked on the sculptures with her mom. (Photo: Mirya Obomsawin)
The federal government has ordered a national inquiry into missing and murdered indigenous women, and Obomsawin and her family are hoping it brings progress. The mother expressed sadness that she still has to fear for her daughters' safety in 2017 — more than 40 years after her great aunt was killed.
"Being an aboriginal woman today, it is like we're at the bottom of the food chain. My daughters yesterday, I was having a talk with one of them because they didn't come in at the right time, and I tried to explain to them that if they don't come home, it makes me scared," she said.
"I asked them if they know what it means, the three sculptures I did outside ... I explained it to them and they started crying and asked me, 'What's wrong with the world, Mom?' And I couldn't come up with an answer."
Follow The Huffington Post Canada on Facebook, Twitter, and Instagram.
Also on HuffPost
REDress Project For Missing, Murdered Indigenous Women