Canada's iconic The Bay department store is in the top 10 of a list of companies targeted for boycott by anti-Trump activists.
The #grabyourwallet campaign site — which ranks companies that do business with U.S. President Donald Trump or his relatives — lists Hudson's Bay Co. as the seventh "most boycottable" company, thanks to its carrying of daughter Ivanka Trump's product line.
Interestingly, the number-one "most boycottable" store on the list is Macy's, which — according to news reports — is in talks to be bought by Hudson's Bay Co.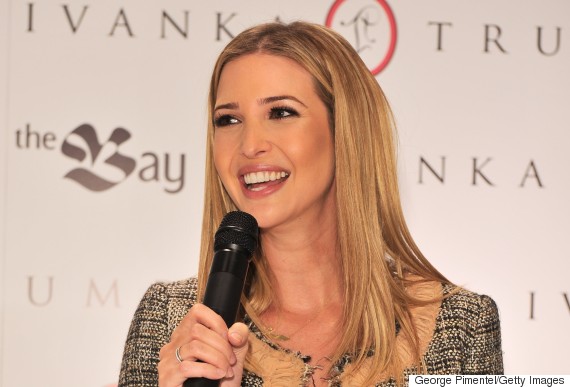 Designer Ivanka Trump presents the Spring 2012 Collection of Apparel, Handbags, and Footwear at The Bay on March 6, 2012 in Toronto, Canada. (Photo: George Pimentel/WireImage for The Bay)
A movement to protest The Bay has been growing in Canada in recent weeks under the #baycott hashtag.
Activists wearing Donald Trump costumes plan to protest outside two Bay locations in Greater Toronto this weekend, CBC reports — at the Eaton Centre downtown and at Mississauga's Square One mall.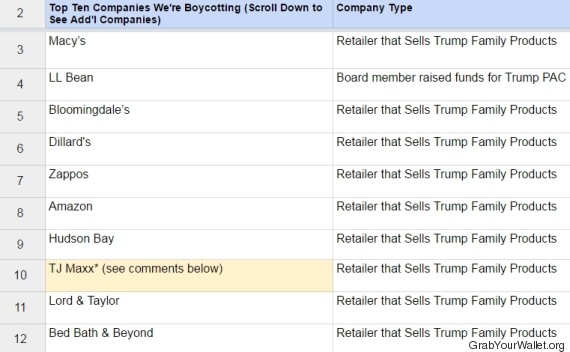 Chart: GrabYourWallet.org
"I have been quite vocal about not shopping there until they stop carrying the brand," said Amanda St. Jean, one of the 14 protesters who have so far committed to being at The Bay protest, as quoted at Global News. "I wrote to the CEO in November and never received a response."
The Bay has so far held firm in the face of criticism, telling media that the company "respect[s] our customers' right to choose the brands that work for them."
Yeah! Super⭐️ @AmandaStJean featured in this @CBC piece: "Boycott Gets Louder..." https://t.co/gs2Y5iF3P2 Go #baycott!! pic.twitter.com/JSh4iAddmP

— Shannon Coulter (@shannoncoulter) February 23, 2017
Other retailers have not held so firmly. Neiman Marcus and Burlington Coat Factory have dropped Trump products, while Sears and Kmart both recently announced they will only make Trump products available in their online stores.
Nordstrom found itself the target of Twitter attacks by President Trump himself after dropping the Ivanka Trump product line.
My daughter Ivanka has been treated so unfairly by @Nordstrom. She is a great person -- always pushing me to do the right thing! Terrible!

— Donald J. Trump (@realDonaldTrump) February 8, 2017
Shannon Coulter, a co-founder of the #grabyourwallet campaign, says she became motivated to boycott Trump brands after the October leak of "Access Hollywood" footage showing then-presidential candidate Donald Trump making disrespectful remarks about women.
"Something changed for me when the Trump tapes came out," Coulter, a marketing professional from the San Francisco area, told The Independent. "Those words were just ringing in my ears."
Analysis firm Captiv8 estimates that there have been nearly half a million social media "engagements" involving the #grabyourwallet campaign, meaning likes, retweets, comments and so forth.
The #baycott campaign has been somewhat slower so far. Analytics company Keyhole told Global News the campaign has gathered upwards of 1,300 posts and some 800 unique users.
Based on that, it estimates that The Bay has lost 1,200 to 1,500 customers so far due to the boycott.
Also on HuffPost