Pope Francis criticized Catholics who live a double life, suggesting that it is better to be an atheist than a hypocritical Christian.
Francis made the comments Thursday during his private morning mass at his home in Casa Santa Marta in Vatican City.
"Scandal is saying one thing and doing another; it is a double life," he told attendees, according to a transcription from Vatican Radio.
He continued:
"'I am very Catholic, I always go to mass, I belong to this association and that one; but my life is not Christian, I don't pay my workers a just wage, I exploit people, I am dirty in my business, I launder money …' A double life. And so many Christians are like this, and these people scandalize others. How many times have we heard — all of us, around the neighbourhood and elsewhere — 'but to be a Catholic like that, it's better to be an atheist.'"
Francis' comments followed his mass readings, which included a passage from the Gospel of Mark that read, "If your hand causes you to sin, cut it off."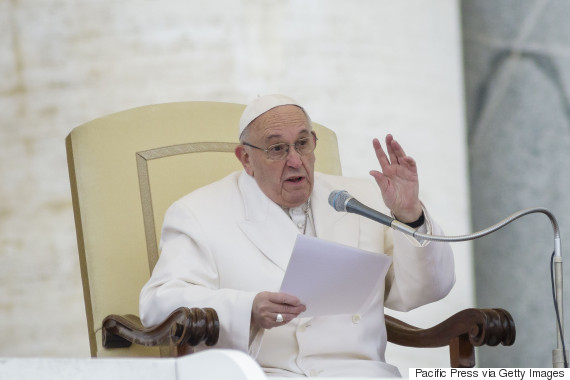 Pope Francis delivers his homily during his weekly general audience at St. Peter's Square in Vatican City on Wednesday. (Photo: Giuseppe Ciccia/Pacific Press/LightRocket via Getty)
The day before he made the comments, the Pope tweeted the gates of heaven should be open, not closed.
Jesus entrusted to Peter the keys to open the entrance to the kingdom of heaven, and not to close it.

— Pope Francis (@Pontifex) February 22, 2017
It's not the first time the Pope has suggested atheists shouldn't be seen as sinners if they do good.
In 2013, shortly after he his papacy began, Francis hinted during a mass that non-believers can be redeemed as long as they "do good."
However, some atheists poked fun at the Pope's remarks.
Reminder that the Pope thinks atheists are only one step up from the worst of practicing Christians. Proud atheist 💪 https://t.co/DdPVRSOlLF

— Max Lynch (@maxlynch) February 23, 2017
As an atheist, I suppose I should return the 'compliment.' It's better to be the pope than a malevolent, homicidal atheist. https://t.co/ggIU8UKqWG

— Ronald A. Lindsay (@RALindsay) February 23, 2017
Follow The Huffington Post Canada on Facebook, Twitter, and Instagram.
Also on HuffPost
Pope Francis Visits Buddhist Temple