Fifteen years after her historic Best Actress win for "Monster's Ball," Halle Berry wowed at the Oscars once again.
This time, the 50-year-old actress is on-hand at the 89th annual Academy Awards for official presenting duties, and once again, her fashion made a splash.
Berry donned a custom Atelier Versace one-shoulder gown, with champagne and black sequin and fringe details for the ceremony. Prior to the telecast, Berry told Vogue the custom look held special significance to her.
Amazing Halle Berry #lovethathair #Oscars pic.twitter.com/tuHezZpjs2

— Sandy Cohen (@APSandy) February 27, 2017
"I have always marched to the beat to my own drum, and I think this red-carpet look encapsulates that," said Berry, in an interview with the magazine. "The dress is glamorous with a sense of romance that made me feel feminine and fresh. With this look, I celebrate my natural hair by allowing it to be wild and free."
The Academy Award-winner also spoke to this year's recognition of diversity, as seven of the 20 acting nominees are people of colour. This achievement happens to follow two back-to-back years of the #OscarsSoWhite nomination controversy, where there were no ethnically diverse acting performances recognized by the Academy.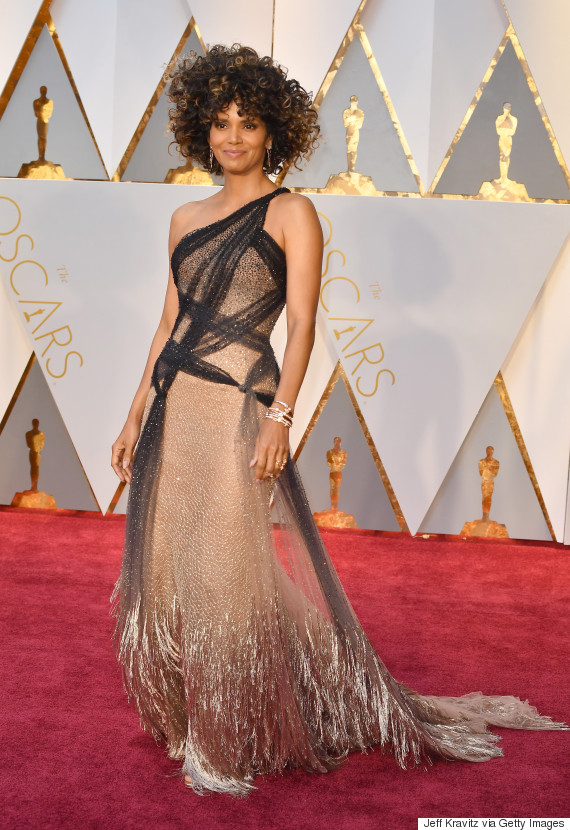 Halle Berry at the 89th Annual Academy Awards in Hollywood, California. (Photo: Jeff Kravitz/FilmMagic)
"I'd like to believe that all those moments when one of us goes that it matters," said Berry, to ABC's Michael Strahan in a red carpet interview.
"Ruth Negga is also nominated this year in that category this year and I'm hoping there's another woman of colour that stands beside me. So, I do think things are changing, yeah, maybe not as fast as we would like them to, and some years we're not represented like we would like to be, but i think if we look at it as a whole, things have progressed and are changing."
Halle Berry on Hollywood diversity: "Things have progressed, and are changing" https://t.co/LOhkJ3ZP65 #Oscars pic.twitter.com/6hyDyQnONK

— ABC News (@ABC) February 27, 2017
Berry became the first black actress to win the Best Actress Oscar in 2002, and most recently wrapped production on the sequel to "The Kingsman," dubbed "Kingsman: The Golden Circle." The "Cloud Atlas" star will also appear opposite Daniel Craig in "Kings," a film which chronicles the impact of the 1992 L.A. riots.
It's a wrap. #kings ✌🏾 pic.twitter.com/UmmnKfEwYj

— Halle Berry (@halleberry) February 7, 2017
ALSO ON HUFFPOST:
Oscars 2017 Red Carpet Photos