Eight-year-old Sunny Pawar just won the Oscars red carpet.
On Sunday, the "Lion" star attended the Academy Awards wearing a classy black suit and green-and-yellow sneakers. The young star posed for photographers with confidence and ease, giving them smiles and waves galore.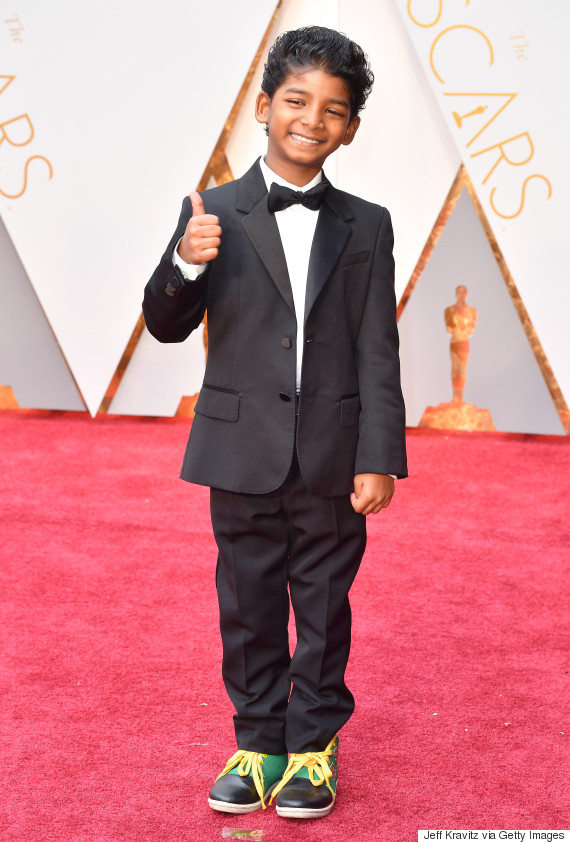 Not only did he flash the peace sign to the crowds...
sunny pawar is the cutest kid ever #Oscars pic.twitter.com/qwIlRKovK3

— ㅤ (@nighcrawIer) February 26, 2017
But he also adjusted his bowtie like a boss.
Sunny Pawar is such a Gee. #Oscars @LionMovie pic.twitter.com/6hIue8j5tl

— Aaron Vallely (@Vallmeister) February 26, 2017
"I'm excited and great honour to be here," Pawar told Ryan Seacrest on the E! red carpet via a translator.
The eight-year-old stars in the Oscar-nominated film "Lion," which tells the real-life story of a five-year-old Indian boy who accidentally gets separated from his family. Years later, he uses Google Earth to try and find them.
Unsurprisingly, the Oscars isn't Pawar's first red carpet event. He also attended the Golden Globes last month where he and "Lion" co-star Dev Patel won over everyone watching.
Dev Patel and Sunny Pawar introduce a clip from @LionMovie, which is nominated for Best Motion Picture - Drama. #GoldenGlobes pic.twitter.com/V17ztQmaAA

— Golden Globe Awards (@goldenglobes) January 9, 2017
Now that the young star is a veteran on the red carpet, he has no problem charming all the celebrities in Hollywood, including Chrissy Teigen.
chrissy teigen hugging sunny pawar WHY IS THIS THE CUTEST THING I'VE SEEN ALL DAY #Oscars pic.twitter.com/qwbDPiD2ep

— juliana (@gladlybiebers) February 27, 2017
And he's also admitted that he's ready to party.
"Are you going to party all night tonight, Sunny Pawar?" "Yes." pic.twitter.com/GLtEckOtSJ

— Steve Pond (@stevepond) February 26, 2017
Pawar is definitely a shining star!
Also on HuffPost
Oscars 2017 Red Carpet Photos