Despite the controversy surrounding his Academy Award nomination, Casey Affleck, who faced two lawsuits over accusations of alleged sexual harassment, still won the Oscar for Best Actor on Sunday.
And the Twitterverse wasn't too happy.
Actress Constance Wu was one of the few celebrities to share their outrage over Affleck's nomination back in January, positing that rewarding a man for his alleged lewd misconduct perpetuated sexism in Hollywood and violence against women.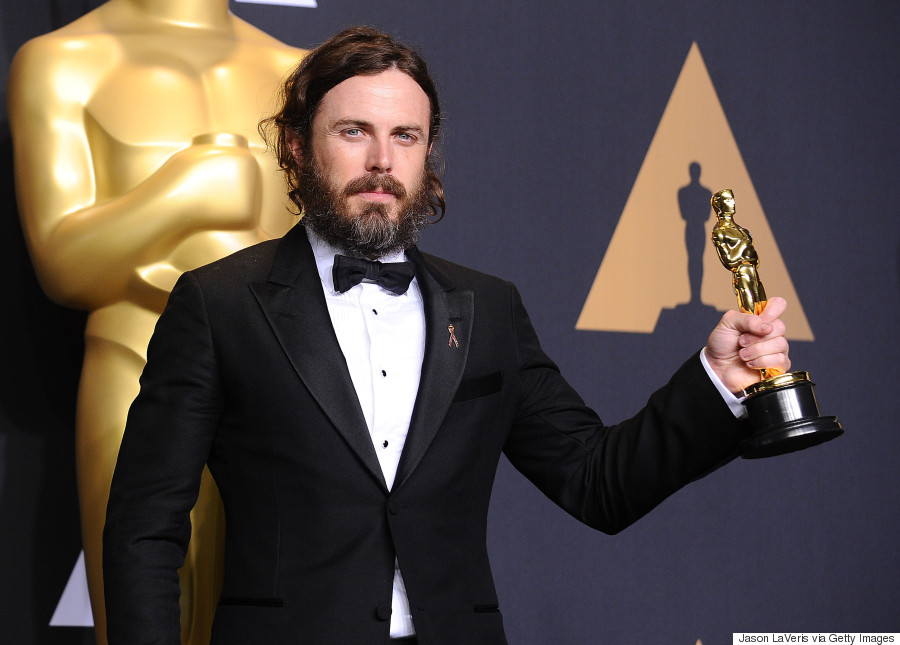 Casey Affleck poses in the press room at the 89th annual Academy Awards at Hollywood & Highland Center on February 26, 2017 in Hollywood, California. (Photo by Jason LaVeris/FilmMagic)
However, the Academy did indeed award the 41-year-old with the Oscar, which prompted backlash online.
just a reminder Casey Affleck has been accused of sexual harassment by multiple women

— Danielle Levy (@roserogue_) February 27, 2017
Casey Affleck is avoiding eye contact with every woman in the room. #Oscars

— ClickHole (@ClickHole) February 27, 2017
viola davis has murdered casey affleck in her head in 15 different ways already pic.twitter.com/CvvnD0LKE2

— *** (@kenobarnes) February 27, 2017
Casey Affleck won Best Actor.
Donald Trump is president.
Tell me again how sexual assault charges can "ruin" a man's career. 😒

— Allie Beauregard (@AllieBeauregard) February 27, 2017
Casey Affleck should not have won. People who commit sexual harassment should lose their jobs, not be celebrated with honor and prestige.

— Feminist Frequency (@femfreq) February 27, 2017
Women get fired for reporting sexual harassment and men win awards for committing it #oscars #CaseyAffleck

— Preston Bradsher (@prestonleighb) February 27, 2017
To survivors of assault after Casey Affleck's #Oscars win & praise of Mel Gibson: We stand with you. You are not alone.

— NARAL (@NARAL) February 27, 2017
Fingers crossed the next plot twist that when we come back from commercial break Casey Affleck is being arrested.

— Rob Michael (@robmichaelhugel) February 27, 2017
me: "congratulations to all the winners yall deserve it so much"
casey affleck:"thank y-"
me: pic.twitter.com/tx4MktK0iX

— rawa (@stonesswift) February 27, 2017
One astute Twitter user pointed out the hypocrisy that Amber Heard, who accused ex-husband Johnny Depp of domestic violence, received hate for speaking out, while Affleck and Depp were rewarded and praised.
amber heard still receives so much hate but yet casey affleck and johnny depp are praised??? 🤔🤔🤔

— mads (@allisonstydias) February 27, 2017
While others were quick to laud Oscar winner Brie Larson's reaction to having to hand out the award to Affleck.
I feel you @brielarson for not celebrating Casey Affleck, a sexual abuser & harasser. #Oscars pic.twitter.com/3x2AUTU3ih

— Gilluis Pérez (@Gilluis_Perez) February 27, 2017
brie larson everytime she sees casey affleck pic.twitter.com/nkQCta9JxZ

— chiara (@chapmns) February 27, 2017
I really want Brie Larson to write about having to give Casey Affleck all the awards after winning for her portrayal of a rape survivor

— Erika W. Smith (@erikawynn) February 27, 2017
Larson refused to applaud Affleck as he accepted his Oscar.
My aesthetic: Brie Larson not clapping for literal trash hole casey affleck pic.twitter.com/Ci5LWXLkCr

— Tyler Struble (@tyler_struble) February 27, 2017
She was also not impressed when she had to hand him a Golden Globe in January.
Back in 2010, a producer and a cinematographer accused Affleck of lewd behaviour and of making unwelcome sexual advances while shooting the movie "I'm Still Here," which Affleck directed.
The Daily Beast reports producer Amanda White alleged in her complaint that she was repeatedly harassed during the shoot.
"On one occasion, [White] claimed that Affleck ordered a crew member to take off his pants and show White his penis  —  even after she vehemently objected. She claimed that Affleck repeatedly referred to women as 'cows,' and recounted his sexual exploits with reckless abandon. In her complaint, White recalled Affleck asking her 'Isn't it about time you get pregnant?' once he learned her age, and suggesting that she and a male crew member reproduce," reports the Daily Beast.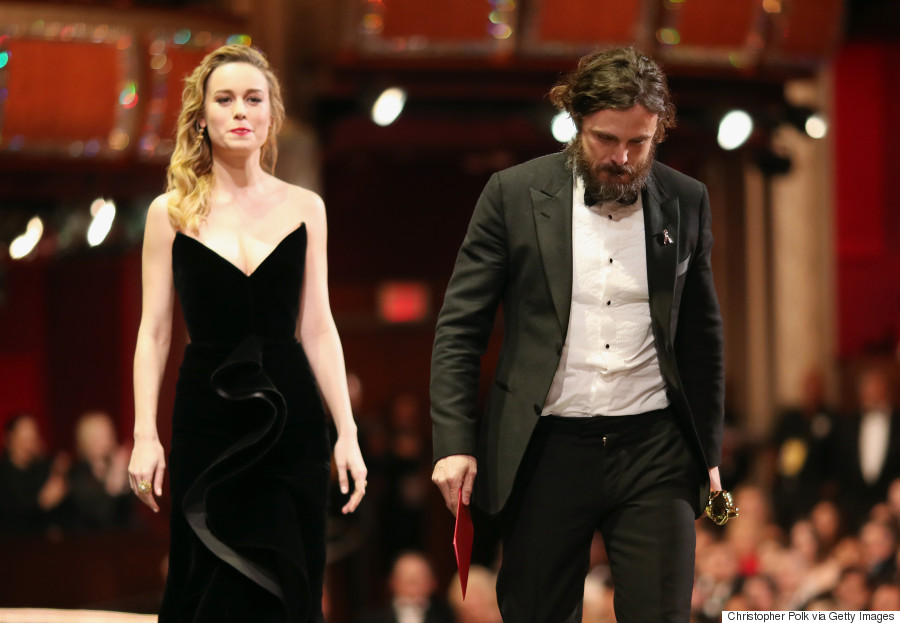 Casey Affleck accepts the Best Actor award for "Manchester by the Sea" from presenter Brie Larson onstage onstagee during the 89th Annual Academy Awards at Hollywood & Highland Center on February 26, 2017 in Hollywood, California. (Photo by Christopher Polk/Getty Images)
Magdalena Górka, a cinematographer on the film, alleged in court documents that "the lewd comments began almost immediately and continued daily, including sexual advances and suggestions that she sleep with her camera assistant, Antony Langdon  —  one of Affleck's good buddies and the guitarist for the British/American rock band Spacehog  —  who was hired as part of the crew," reports Mashable.
The complaint read, in part:
"Affleck had his arm around her and was caressing her back and his face was right next to hers. ... Plaintiff was shocked and repulsed because she did not know where he had touched her while she was sleeping. ... [Górka] immediately jumped up and told Affleck to get out of her bed. Affleck responded by asking 'Why?' Plaintiff said 'Because you are married and because you are my boss.' Affleck, undeterred, asked if Plaintiff 'was sure.' Plaintiff said she was sure and insisted that he leave the room. Affleck left and slammed the door in anger."
The suits were settled out of court for an undisclosed amount. Affleck has denied the allegations.
Also on HuffPost
Oscars 2017 Red Carpet Photos