A Calgary man will likely need skin grafts after his e-cigarette's battery exploded in his pocket on Friday.
Terrence Johnson and his wife Rachel Rex had just finished eating dinner at The Embarcadero on 17 Ave. and were chatting with their waiter outside when their conversation was interrupted with a flash.
A spare e-cigarette battery had touched some change in Johnson's pocket, causing it to burst into flames.
"I literally thought someone had thrown a Molotov cocktail at us," Rex told the Calgary Sun.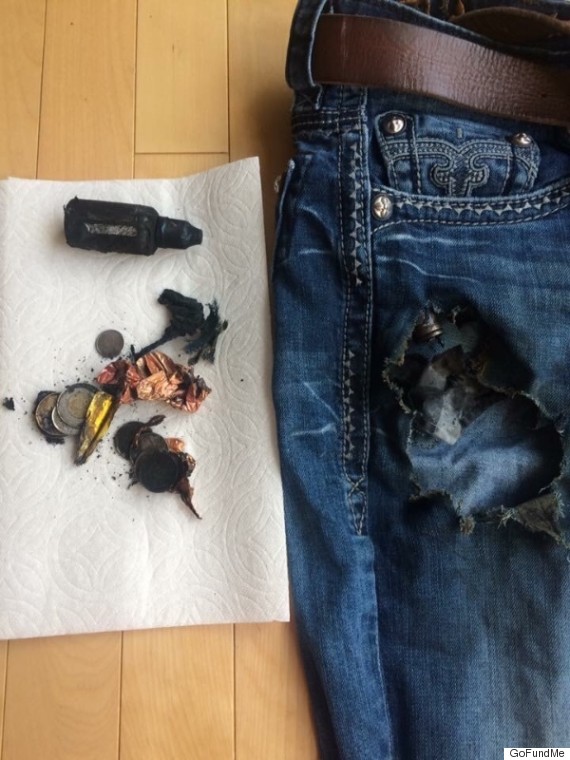 Fragments of an e-cigarette battery are shown next to the pants Johnson wore when the battery exploded. (Photo: GoFundMe)
Johnson's leg was left with third-degree burns, and his hands with first and second-degree burns from attempting to extinguish the fire.
The couple told CTV News that staff at the restaurant helped extinguish the flames and collected fragments of the battery before paramedics arrived and took them to Foothills Hospital. The Embarcadero also provided them with surveillance video of the incident (watch the video above).
Johnson told CBC News that the battery, sold by Efest Power, had no warnings anywhere on the packaging.
However, the company's website warns users "DO NOT PUT ANY BATTERIES IN YOUR POCKET."
A GoFundMe page has been set up to help the family with medical expenses, as Johnson is now on medical leave and will likely require skin grafts.
Follow The Huffington Post Canada on Facebook, Twitter, and Instagram.
Also on HuffPost
5 Important Lessons From The Biggest E-Cigarette Study