Justin Timberlake attended the 89th Academy Awards with a mission. A photobombing mission.
As the singer walked the red carpet, he ducked jokingly into photographs with his wife, Jessica Biel, as well as other celebrities. Naturally, viewers were quick to take notice, and suggest that perhaps he might want to tone it down.
LOL. #Oscars pic.twitter.com/6w1xw3VtHl

— Madelyn Chung (@madelynchung) February 27, 2017
one of these is correct, my dudes pic.twitter.com/P2KsvbnuXq

— keely flaherty (@flahertykeely) February 27, 2017
Everyone has that one annoying friend #Oscars pic.twitter.com/QG2dSvS6i6

— Mashable (@mashable) February 27, 2017
He then went on to open the Oscars with a performance of his song "Can't Stop the Feeling" from the movie "Trolls," which was nominated for Best Original Song.
CAN'T STOP THE FEELING!#Oscars @jtimberlake pic.twitter.com/l0QSGn9Nis

— Good Morning America (@GMA) February 27, 2017
But his attempt to get Hollywood up and dancing was more cringe-worthy than enjoyable to watch, according to Twitter.
@ABC Shittiest opening. What is this, some prom party? #Oscars

— IIIΞ FUGARU (@Newyorkez) February 27, 2017
Ryan Gosling knows when … and when not to establish eye contact … pic.twitter.com/h6EkwS2kaO

— Leigh Paatsch (@leighpaatsch) February 27, 2017
And then there was JT's attempt to hug virtually every celebrity who won an Oscar.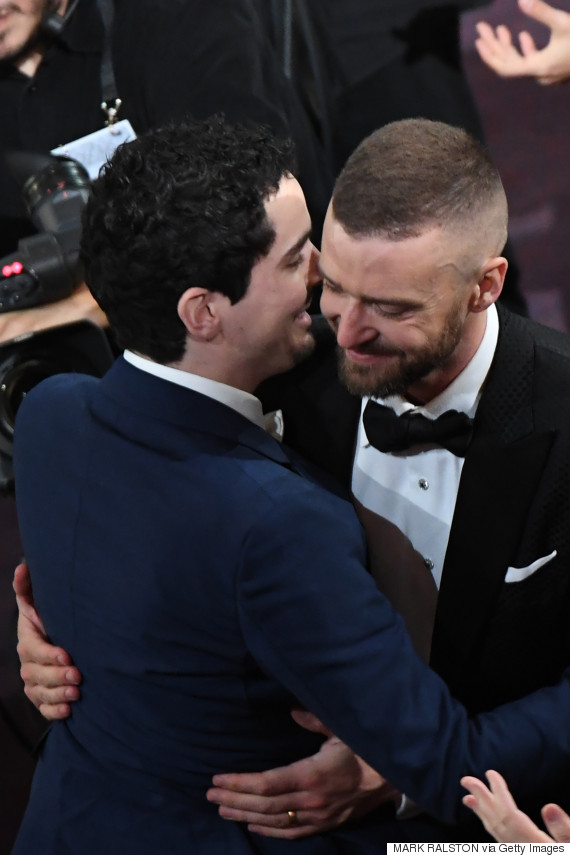 U.S. director Damien Chazelle (L) celebrates with Justin Timberlake after he won the Best Director award for 'La La Land.'
New drinking game: Drink every time Justin Timberlake hugs someone he doesn't know in an attempt to get the attention on him. #oscars

— Kat (@Bmorekitten) February 27, 2017
Ommfg why is Justin Timberlake trying to hug all of the Oscar winners? Dude give it a REST. totally me me me syndrome @LaineyGossip

— Gina Gina (@cappuccinagina) February 27, 2017
Justin Timberlake is the #Oscars version of Taylor Swift at the Grammys. Acting like they had something to do with everyone's win!

— Helen Bhakta (@kochakunjamma) February 27, 2017
Why is Justin Timberlake continually standing up to bro hug everyone? You wrote a song for Trolls. Sit down and let these people have it.

— Sara B. (@MrsParty1029) February 27, 2017
Take a seat, Justin. Take a seat.
Also on HuffPost
Oscars 2017 Red Carpet Photos