Conservative leadership hopeful Kevin O'Leary has abruptly announced he is pulling out of a bilingual debate set for Tuesday in Edmonton.
O'Leary's 11th-hour exit will likely net his campaign a $10,000 fine from the party, and already has rival Lisa Raitt blasting him as a "chicken."
The businessman said in a statement on Monday that having 14 people on stage in Edmonton, answering the same questions, would leave no room for back and forth.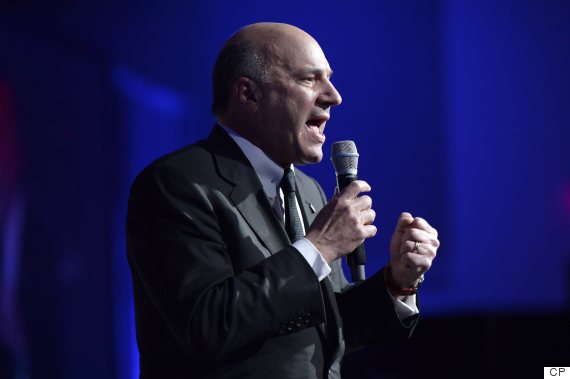 Kevin O'Leary speaks during a Conservative party leadership debate at the Manning Centre conference on Feb. 24, 2017 in Ottawa. (Photo: Justin Tang/Canadian Press)
O'Leary said in the release that his campaign team tried to change the format of the Edmonton debate to "mirror" the one held Friday at the Manning Centre Conference, where contenders broke off into smaller groups to discuss specific policy.
"Unfortunately, Party organizers have informed my team that despite all but one campaign agreeing to the change, they would be continuing with the terrible previous format," he said. "I am obviously disappointed."
O'Leary said he will still be in Edmonton Tuesday to speak with party members at "an intimate fireside discussion," and will hold a media availability.
"I hope the Party recognizes the mistake they have made in this decision and encourage them to reconsider this going forward," O'Leary said.
"I look forward to speaking directly with Albertans and I am confident that they will agree with my vision for the future of our Party and Canada as a whole."
Conservative spokesperson Cory Hann confirmed in an email to HuffPost that O'Leary's team approached the party about changing the format of the Edmonton event shortly after the Manning debate. The party said a change, just a few days out, would require unanimous consent from all campaigns.
"Our understanding is they were several short of obtaining a yes to the proposed change from the remaining 13 campaigns, so the format will remain as planned," Hann said.
O'Leary is not bilingual but spoke about a minute of French — reading from prepared remarks — at an unofficial debate in a Montreal suburb earlier this month.
Other Tory contenders have said O'Leary's inability to speak the language fluently is disqualifying.
Raitt — whose campaign is targeting O'Leary with an attack website — did not pull any punches after the news broke.
Chicken. https://t.co/pzZ1aoqRH1

— Lisa Raitt (@lraitt) February 27, 2017
Each Tory leadership hopeful was asked to put up $50,000 as a refundable compliance fee. From that amount, the party will claw back any penalties from candidates who don't abide by party rules.
With files from Althia Raj
Also on HuffPost
Conservative Leadership Candidates