WINNIPEG — Manitoba's health minister said Tuesday he will not attend a Pride Parade in his constituency this summer because there has been too much shaming of people who don't participate.
Kelvin Goertzen cited family commitments last year when he declined an invitation to the first Pride Parade in Steinbach, a city with conservative religious roots southeast of Winnipeg.
Goertzen said in a written statement he again has plans that coincide with this year's event — scheduled for July 15 — but would not attend even if he were available.
"I am in Kansas City, Missouri, on the scheduled date of this year's Pride (event). However, even if I was available to attend, I would not," Goertzen's statement reads.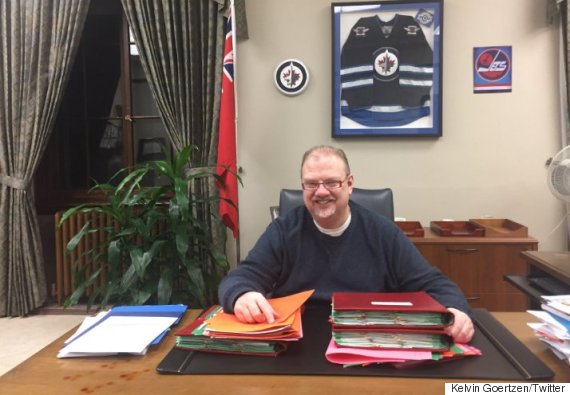 Kevin Goertzen in a photo shared on social media.
"Last year's Steinbach Pride speeches, which I listened to in their entirety, contained many thoughtful comments about making all communities safe for all people.
"But in addition to these, there were many speeches by politicians and former political candidates that spent time criticizing those who did not attend the event. I wouldn't stand on a stage at any non-partisan event that dedicated so much of its time to shaming individuals. Pride should be about pride, not shaming."
Goertzen, who was not available for an interview, faced criticism for not attending last year's parade, as did Steinbach Mayor Chris Goertzen and Conservative MP Ted Falk. The mayor said he had a prior commitment. Falk initially said he would be busy at a nearby frog-jumping festival and later added he would not go because of his "values of faith, family and community."
Criticism of elected officials does not amount to shame, Steinbach Pride spokeswoman Michelle McHale said Tuesday.
"I am in Kansas City, Missouri, on the scheduled date of this year's Pride (event). However, even if I was available to attend, I would not."
"I see that as holding your elected officials accountable, not shaming them," she said.
"I'd be curious to know specifically what it was that he felt was shaming."
Last year's event — one of many across the country celebrating the rights of LGBTQ people — drew an estimated crowd of 3,000 in a city of 14,000. Many of the attendees came from Winnipeg.
Parade organizer running for NDP
McHale, one of the organizers, has since announced she is considering a run for the Manitoba NDP leadership, which will be decided in September.
"Regardless of whether I was considering pursuing the NDP leadership or not ... this is an issue I would still have something to say about."
Goertzen said he has offered to meet with organizers of the event in Steinbach.
"The invitation was acknowledged but not pursued," he said in the statement.
"I will continue to work for all Manitobans in a way that focuses on respecting individuals, not trying to shame them."
Also on HuffPost:
Vancouver Pride Parade 2016