Rihanna may be best known for musical hits like "Work" and "Love On The Brain," but a recent honour from Harvard proved the singer is also deeply passionate about helping others.
Accepting the Peter J. Gomes Humanitarian Award on Tuesday for her philanthropic work, Rih Rih was honoured for creating The Believe Foundation, which benefits children in need as well as the Clara Lionel Foundation, an organization she founded on behalf of her grandparents. The Grammy award-winner was also recognized for building "a state-of-the-art centre for oncology and nuclear medicine to diagnose and treat breast cancer" in her native Barbados, according to the Harvard Gazette.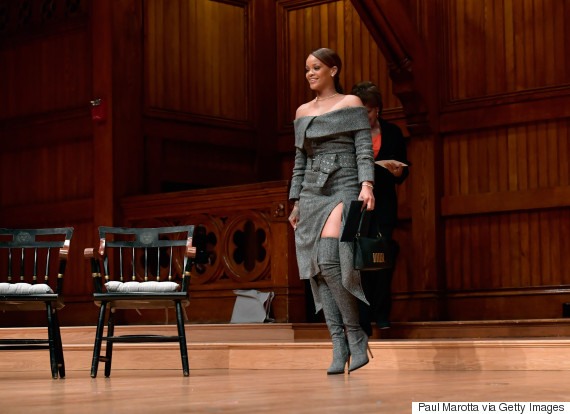 Of course, the fashionista looked superb while accepting her award, sporting an off-the-shoulder frock from Monse with matching boots. But it was her impactful speech that truly left the audience in awe.
"So I made it to Harvard," Rihanna began, as she flipped her sleek ponytail. "Never thought I'd be able to say that in my life, but it feels good."
IM SCREAMINGGGG I LOVE RIHANNA 😂 pic.twitter.com/choPIBxT7e

— Dan (@DanSkelton2312) February 28, 2017
"At 17, I started my career here in America, and by the age of 18, I started my first charity organization," she later reminisced.
"Fast forward to 2012 and then my grandmother, the late Clara Brathwaite, she lost her battle with cancer, which is the very reason and the driving force behind the Clara Lionel Foundation. We're all human. And we all just want a chance: a chance at life, a chance in education, a chance at a future, really."
She continued, "The truth is, and what I want the little girl watching those commercials to know, is you don't have to be rich to be a humanitarian. You don't have to be rich to help somebody. You don't gotta be famous. You don't even have to be college-educated."
"It starts with your neighbour, the person right next to you, the person sitting next to you in class, the kid down the block in your neighbourhood, you just do whatever you can to help in any way that you can."
Find the rest of her beautiful speech here.
Also on HuffPost
Rihanna's Diamond Ball Red Carpet