YouTube has announced it's going to start offering live streaming TV to U.S. subscribers, a move that threatens to drive another nail into the coffin of the cable business.
But there's no word yet on whether the service will ever be brought to Canada.
YouTube, owned by Google parent company Alphabet, announced on its blog Tuesday that for US$35 a month, it will offer access to 40 major channels such as ABC, CBS, Fox and NBC; sports channels like ESPN; news channels like MSNBC and Fox, as well as cable specialty channels and even the premium Showtime network.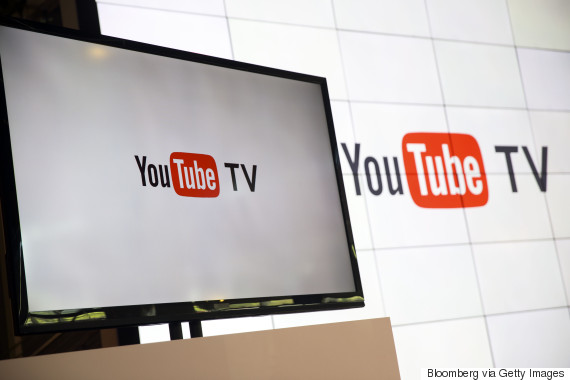 YouTube Inc. signage is displayed on a monitor after the company's new television subscription service was unveiled at the YouTube Space L.A. venue in Los Angeles, California, on Tuesday, Feb. 28. (Photo: Patrick T. Fallon/Bloomberg via Getty Images)
YouTube's service promises to be superior to traditional cable TV in at least a few aspects. Subscribers will have access to live TV channels on their mobile devices and laptops. They will also be able to "record" live TV, meaning their program will be saved to cloud storage for later viewing.
YouTube isn't making any promises that live TV will eventually roll out in Canada.
"YouTube TV is a U.S.-only app at this time," a spokesperson said in a statement to CBC News. "This particular proposition is unique to the U.S. TV market and any further rollout will be considered with the local market in mind."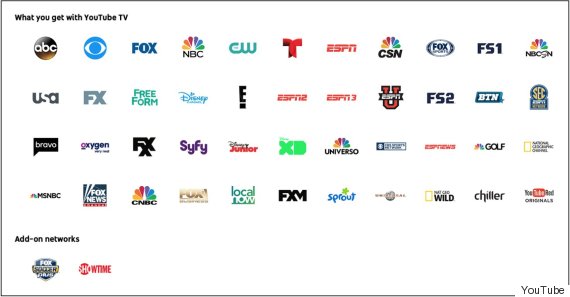 YouTube's channel lineup for live TV.
Some telecom experts doubt the service will ever make it north of the border.
"Given that Google would have to jump through an entirely different and probably more difficult set of hoops to make YouTube TV available in Canada, there's virtually zero chance it'll happen here any time soon," tech blogger Peter Nowak wrote.
YouTube TV is part of a trend in the U.S. of various online and cable services moving into the streaming business. The service will compete AT&T's DirecTV (traditionally a satellite broadcaster that now offers streaming), along with Dish Network's Sling TV and Sony's Vue.
Additionally, the streaming service Hulu is planning to start offering live TV later this year, Business Insider reports.
Also on HuffPost
The 18 Songs With Over 1 BILLION Views On YouTube