A Halifax boy has other people's hearts on his mind, despite his own that may eventually need surgery.
Brock Molyneux, who was born with two heart valves instead of four, told his mom he wanted to raise money for the cardiology department at the IWK Health Centre, where he receives treatment.
Instead of planning a bake sale or lemonade stand, Brock drew his inspiration from two very different sources: Pokemon Go and his beloved pet, a ladybug.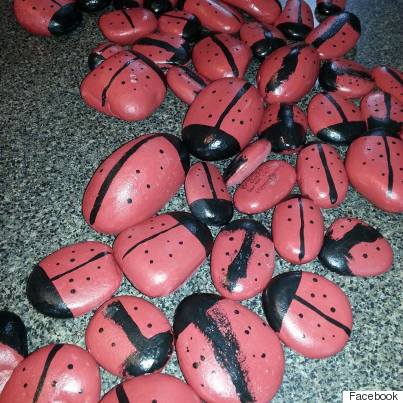 Brock Molyneux plans to hide 100 rocks painted in tribute to his pet ladybug to raise money for cardiac research. (Photo: Facebook)
Despite his condition, Brock's heart is functioning well enough for him to live as a healthy kid. A cardiac surgery won't be necessary until he reaches around 18 years old.
But that hasn't stopped him from thinking ahead to ways he can also help others.
Watch Brock explain his fun idea in the video embedded above.
With a file from Emily Anonuevo
Follow The Huffington Post Canada on Facebook, Twitter, and Instagram
Also on HuffPost