On Wednesday, Vogue Arabia revealed its first print issue featuring one of the world's most recognizable models on the cover: Gigi Hadid.
For those who don't know, the 21-year-old is half Dutch and half Palestinian, making her, as Vogue Arabia editor in chief Deena Aljuhani Abdulaziz says, the best "face" to front the glossy's premiere issue.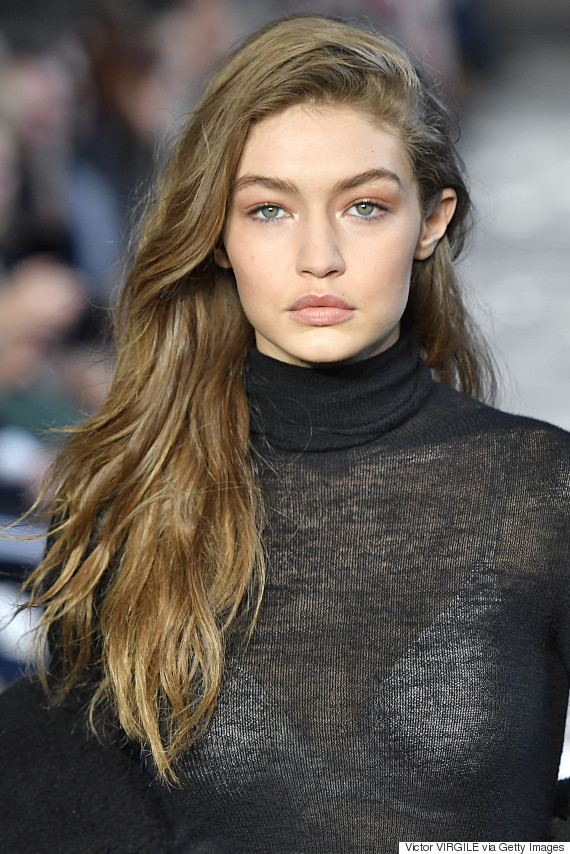 On the mag's website, Abdulaziz notes, "The collage of countries across the Arab world are long-deserving of a place in fashion history and there's no better first 'face' to lead the charge for Vogue Arabia than Gigi, a model who defines tomorrow's entrepreneurial and dynamic generation."
The black-and-white cover, shot by agency Inez and Vinoodh and styled by Brandon Maxwell, shows Hadid wearing a jewelled veil (with a cut-out hole for her eye), a gorgeous bracelet and the smokiest of eyes. In fact, there are two covers — one in which Hadid's face is mostly covered, while the other shows her pout.
Although the cover is stunning, not everyone is happy with the fact that Vogue Arabia put a white model instead of an Arab model on its inaugural print issue, despite the fact that Hadid is half Palestinian.
One commentator wrote on Vogue Arabia's Instagram page, "Middle Eastern influencers deserve at least some recognition. This would have been the perfect platform for them."
Another wrote, "Couldn't find a proud Arab for the cover?" While another Instagram user wrote, "[Gigi] only mention her Arab side to escape the cultural appropriation or when it benefits her lol."
Vogue Arabia also faced criticism for its cover on Twitter.
@VogueArabia there are so many more other Arabian models who could've done this bruh she's so overrated it's sad

— my lonely thoughts (@MeConfessing) March 1, 2017
@VogueArabia you never thought of having an Arabian model for you first cover... tragic

— célina (@petitemoll) March 1, 2017
@VogueArabia since you're starting with an awful choice here's some better options for your next covers pic.twitter.com/R50wWZKmWB

— jawdat (@chaosxthecalm) March 1, 2017
@VogueArabia @inezandvinoodh @GiGiHadid pic.twitter.com/nqv0jEIEJK

— menna (@clinohmaniac) March 1, 2017
@VogueArabia @inezandvinoodh @GiGiHadid pic.twitter.com/DydbVfGxcx

— • (@starksteves) March 1, 2017
@VogueArabia @inezandvinoodh @GiGiHadid what about the Arab models who actually know what its like to be an Arab in todays day and age

— Raheema (@raaaaaaaaaayyy) March 2, 2017
But others thought Gigi was the perfect choice for the cover.
@VogueArabia @inezandvinoodh @GiGiHadid being half Palestinian,she's the best choice for this cover. This is one of the most stunning cover.

— Zara (@Iam_Zaraz) March 1, 2017
@VogueArabia definitely deserved that cover! Especially that she's half palestinian. So proud of her ❤.

— Jasmyn 🍇 (@GigiTheMalik) March 1, 2017
However, not everyone thought that Hadid being half Palestinian made her deserving of the cover.
@trustednobody @petitemoll @VogueArabia she doesn't claim her Palestinian heritage unless she can benefit from it. bye.

— ㅤㅤㅤ (@NIGGASINPARlS) March 1, 2017
Gigi however, was more than thrilled with her Vogue Arabia cover, posting on Instagram that she felt honoured to be the mag's first cover star.
"I think the beautiful thing about there being international Vogue's is that, as a fashion community, we are able to celebrate, and share with the world, different cultures," Hadid wrote. "Being half-Palestinian, it means the world to me to be on the first-ever cover(s) of @voguearabia, and I hope that this magazine will show another layer of the fashion industry's desire to continue to accept, celebrate, and incorporate all people & customs and make everyone feel like they have fashion images and moments they can relate to... & learn and grow in doing so. ❤ Thank you @deenathe1st for your vision and for having me on this cover... by the incredible @inezandvinoodh - so much love."
What do you think of Gigi's Vogue Arabia cover?
Also on HuffPost