One Indiana man is lucky he was feeling lazy on Wednesday, because it may have saved his life.
Austin resident Raymond Bowling usually sets his alarm for 5:30 a.m., hits the snooze button once and then gets up nine minutes later to start his day, he told Fox59.
But he wasn't feeling quite ready to face the world, so he indulged in a few more glorious minutes of supine stillness.
"I had actually stood up to go to the bathroom to get ready for work but decided to let the snooze go off one more time and laid back down," he told WAVE. "I never do that."
As he was dozing off, he woke up to a crash — a tree limb had shot through his main bathroom's ceiling.
"I come in here to find a tree where I would've been standing brushing my teeth had I got up when the second snooze went off," he told WHAS11.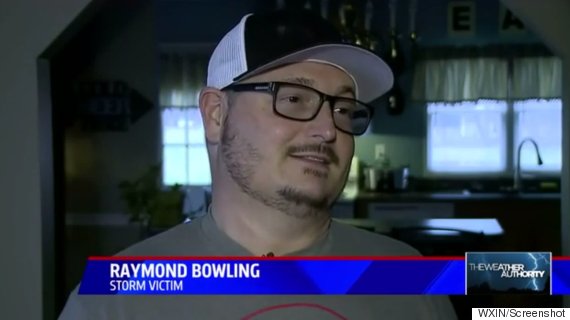 Raymond Bowling had quite the morning wake-up call on Wednesday. (Photo: WXIN/Screenshot)
He told WAVE he thinks God was watching out for him.
A contractor removed the tree limb on Wednesday and patched the roof, according to Fox 59. Dozens of homes in his part of Indiana were damaged due to severe rain, lightning and wind.
But now that he's still alive, Bowling and his friends are having some fun with the episode. One even made the tree limb into a meme.