The fun never ends for one B.C. farmer.
Marko Kardum, who lives in Central Saanich on Vancouver Island, made headlines last month when he was pulled over by police and escorted home after trying to clear the roads with a Zamboni.
Now he's been recognized by the province.
Saanich North and the Islands MLA Gary Holman introduced Kardum to the B.C. legislature Wednesday, honouring him for finding a creative way to help his neighbours after a heavy snowfall.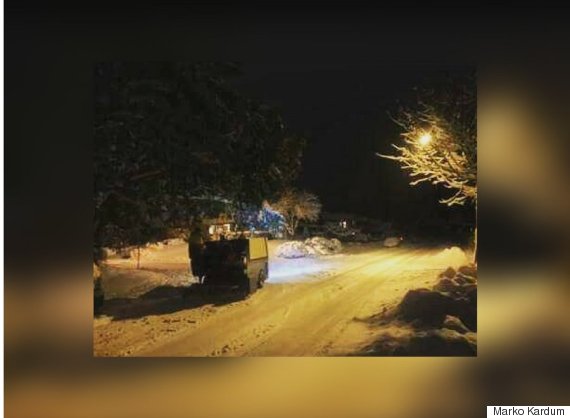 Marko Kardum riding his Zamboni near his home in Central Saanich, B.C. last month. (Photo: Marko Kardum)
"I know that most of us in this House probably own a Zamboni, but not many of us have volunteered to help out our road crews," Holman said Wednesday afternoon.
It's unclear whether he was joking about most members owning Zambonis.
"Mr. Kardum represents the spirit of community volunteerism in the most Canadian [of] ways possible."
Holman also applauded Kardum's energy-efficient vehicle choice.
"And I'm sure that the emission controls on the Zamboni meet current standards."
The farmer told The Huffington Post Canada that he was surprised and honoured to be invited to the legislature.
"I didn't think it'd go that far," he said.
Members applauded him after he was introduced, which he said "put a smile on his face."
"I'm proud that I stepped up and helped the community out."
He emphasized in an interview with Chek News he drove his truck that day, not his Zamboni.
Also on HuffPost