Is Canada becoming a playground for the rich? Many signs these days point to yes.
Canada has seen the fastest increase in its super-rich population of any major country in the world, a new study has found.
Commercial real estate agency Knight Frank's latest Wealth Report also found that Vancouver is adding super-rich residents at the fastest pace of any major city worldwide.
Nationwide, Canada saw a 15-per-cent spike in the number of "ultra high net worth individuals" (UHNWIs) between 2015 and 2016, the report found.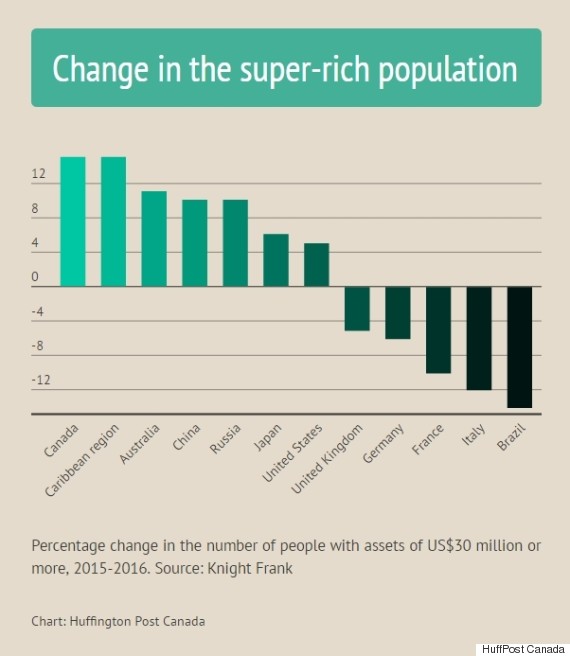 Only the island of Mauritius saw a faster pace of growth than Canada, though its population of 50 super-rich individuals can fluctuate greatly from year to year.
Canada had 4,110 UHNWIs in 2016, up from 3,570 in 2015. Knight Frank defines these people as having a net worth of US$30 million or more.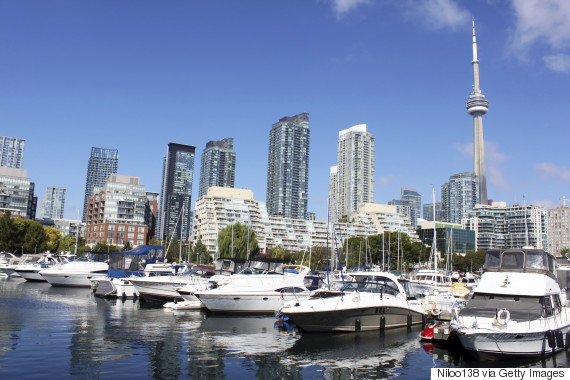 Yachts in a marina in Toronto. Canada is seeing a rapid increase in its population of wealthy people. (Photo: Getty Images)
Two factors can cause the population of super-rich to grow so quickly: Increases in local households' wealth, and wealthy immigrants.
In Canada, it appears to be both. Canadian households' net worth rose to $10.2 trillion in the third quarter of 2016, a 7.7-per-cent increase in the space of just one year.
That sort of wealth increase can certainly bump some people into the ultra-high-net-worth category. But evidence suggests millionaire migrants are playing a role as well.
A report from New World Wealth, released last month, found Canada is the third-most popular destination for wealthy migrants, behind Australia and the U.S.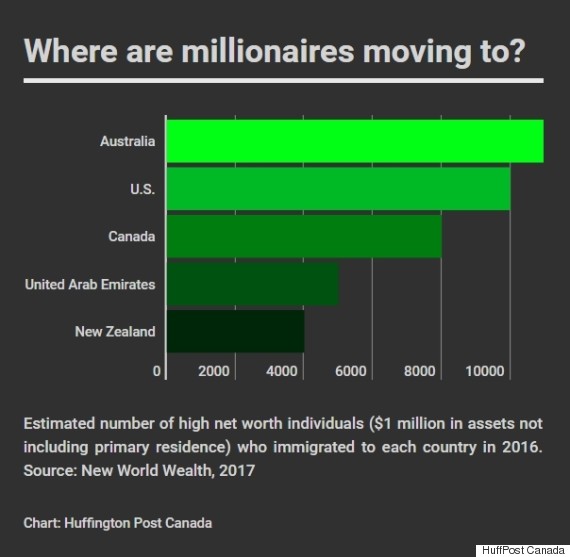 Inflows to Canada "were boosted by large-scale immigration from China into Vancouver," New World Wealth analyst Andrew Amoils told HuffPost Canada in an email. "There were also significant HNWI inflows from Europe into Toronto and Montreal."
Vancouver saw a stunning 23-per-cent increase in the number of super-rich between 2015 and 2016.
However, given that the city's housing market has softened considerably in recent months, with sales falling by some 40 per cent, it may be that the influx of wealthy migrants into Vancouver has slowed at this point.
Toronto tied for fourth place among cities with the fastest-growing super-rich population.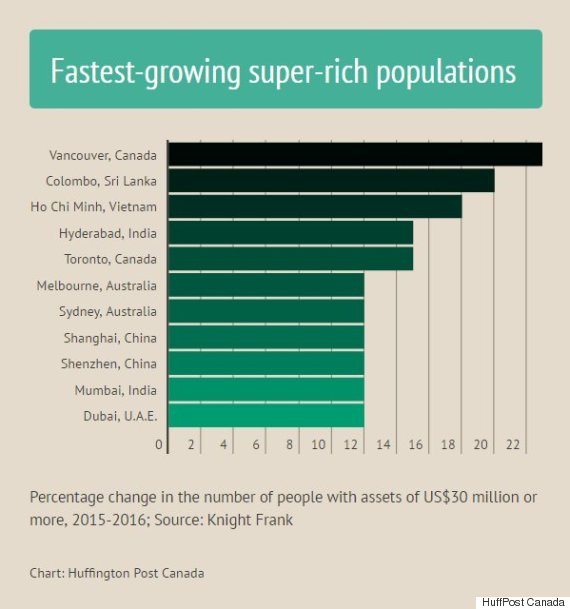 Also on HuffPost