Conservative immigration critic Michelle Rempel says people who illegally enter Canada from a safe country where they are not "facing direct persecution" should be charged.
And Rempel is calling on the Liberal government to state clearly if it believes the United States is a safe country.
Rempel took to Facebook Friday to share her reaction to a report from The Globe and Mail that said the RCMP has yet to charge hundreds of asylum seekers who have come into Canada by foot in recent months to claim refugee status.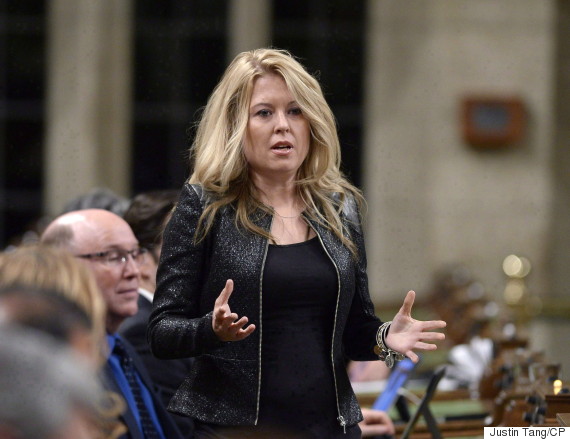 Conservative MP Michelle Rempel asks a question in the House of Commons on Feb. 10, 2017. (Photo: Justin Tang/The Canadian Press)
According to The Canadian Press, 435 people have crossed the Canada-U.S. border illegally in places such as Emerson, Man. since Jan. 1.
They have been arrested by the RCMP or local police and transferred to the Canada Border Services Agency for criminal background checks. CBSA then determines if they are eligible to make a refugee claim. If ineligible, a removal order is issued and they are released on condition they report for further removal proceedings.
"Persons coming from a safe country and not directly fleeing persecution should not be able to ignore our laws and enter Canada illegally," Rempel wrote. "If they do, they should be charged."
Rempel said leaders across the political spectrum recognize the U.S. as one of the world's most "vibrant" democracies.
The Globe reported that the RCMP aren't charging illegal border crossers. Here are my thoughts: https://t.co/kY7oh6h39x

— Michelle Rempel, MP (@MichelleRempel) March 3, 2017
&nbsp
"It is not helpful for the Liberals to imply, through silence, that there is no penalty for crossing the border illegally," she said in her post. "The Liberals need to firmly state whether they believe the US is a safe country or not and act accordingly."
While it is against the law to attempt to get into Canada outside an official border point, Section 133 of the Immigration and Refugee Protection Act makes an exception for asylum seekers.
Nearly 1,700 people have also sought refugee protection at Canada-U.S. border crossings this year, compared to 728 people in the same period last year, CP reports.
The increasing number of claimants, as well as a loophole in the Safe Third Country Agreement between Canada and the U.S., have become hot topics for Conservative leadership hopefuls.
"It is not helpful for the Liberals to imply, through silence, that there is no penalty for crossing the border illegally."
The Safe Third Country Agreement spells out that asylum seekers must make their claim in the country in which they first arrived, but that only applies when claims are made at official border points. If asylum seekers reach Canadian territory, they are entitled to go through a claims process after being arrested because Canada is a signatory of the U.N. Refugee Convention.
At a Tory leadership debate in Edmonton this week, Kellie Leitch scored applause for saying those who cross the Canada-U.S. border illegally should be "detained, questioned, and sent back to the United States immediately."
Michael Chong called on Prime Minister Justin Trudeau to delete a much-discussed "Welcome to Canada" tweet that he said indicated people could cross the border illegally.
And Chris Alexander, a former immigration minister, seemingly attempted to downplay the link being made between the spike in claimants and U.S. President Donald Trump's controversial bid to ban travellers from seven Muslim-majority nations.
&nbsp
Alexander said "illegal, irregular, dangerous migration" also happened when former U.S. president Barack Obama was in the White House.
"People came to Canada, sometimes in large numbers. Did the media pay any attention at that time? People fleeing Obama's America? No," Alexander said. "They're paying attention now for different reasons."
Public Safety Minister Ralph Goodale will head to Emerson Saturday to learn more about the situation.
With files from The Canadian Press
Also on HuffPost