It was a bittersweet homecoming for former Montreal Canadiens defenceman P.K. Subban.
The beloved former Hab was back in Montreal on Thursday, for the first time since he was traded to the Nashville Predators last year — and fans welcomed him back with open arms.
Subban was brought to tears during a heartwarming video tribute highlighting his seven seasons with the Montreal team.
Fans gave #76 a standing ovation, as the teary-eyed Subban waved to the crowd.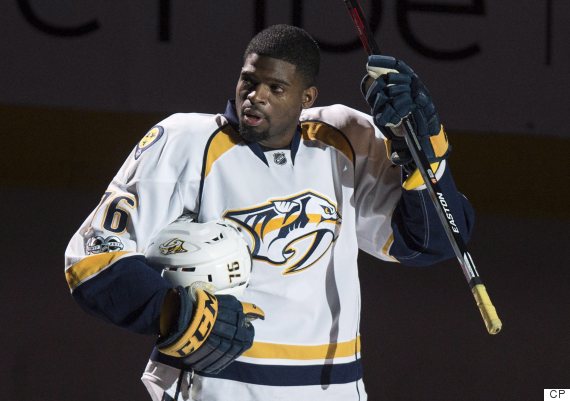 Nashville Predators' P.K. Subban salutes the crowd as he is introduced before the game against the Montreal Canadiens on Thursday. (Photo: Paul Chiasson/Canadian Press)
It's been eight months since he was traded to the Nashville Predators for Shea Weber in a surprise deal that shocked fans.
Subban was known for his colourful personality and work ethic on the ice, as much as his community philanthropy.
He committed $10 million over seven years for the Montreal Children's Hospital through the P.K.'s Helping Hand program, which helps families struggling with medical costs.
After Thursday's game that saw the Canadiens beat the Predators 2-1, he told reporters, "A lot of great things happened in this building and in this city while I was here. All those memories come back, whether it's stuff to do at the hospital, with the kids, family, teammates, emotional hockey games.
"We shared that with all the fans and the community here."
Also on HuffPost