Having a female bestie is crucial in a woman's life. Not only is this lady your confidant, but she is your ally, your cheerleader, your psychiatrist and your partner-in-crime.
Dr. Irene S. Levine, psychologist and author of The Friendship Doctor, describes female friendships as "the most meaningful but complex relationships in women's lives. These unique bonds often run deeper than family ties and last longer than relationships with husbands and lovers."
Since March is Women's History Month, we're taking a look at what we can learn from our favourite female besties. Here are nine friendship lessons from celebrity BFFs.
1. No one makes a better life partner than your BFF.
We all know you don't need to get hitched to lead a happy life. Heck, you don't even need a significant other for that matter, just as long as you've got your BFF at your side. Michelle Williams and Busy Phillips are proof of that.
Williams recently opened up about how tough it is to date as a single mom. But despite this, she has always been adamant that she doesn't need a man in her life as long as she has her best friend.
In December, the 36-year-old actress brought Phillips as her date to a screening of her film "Manchester by the Sea."
"I'm here with my best friend," she told People magazine. "I'm so in love with her. She's proof that the love of your life does not have to be a man! That's the love of my life right there."
2. Friendship is more important than competition.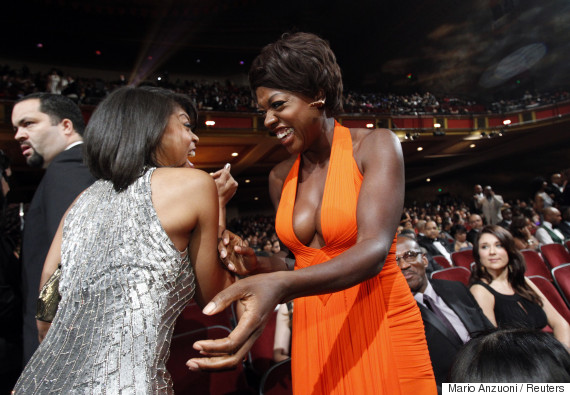 Taraji P. Henson greets Viola Davis at the 2012 NAACP Image Awards.
At award shows, BFFs Viola Davis and Taraji P. Henson are always the first to congratulate each other, despite being direct competitors.
At the 2015 Emmys, both actresses were nominated for Outstanding Lead Actress in a Drama Series. When it was announced that Davis had won, Henson was the first to embrace her and give her a standing ovation.
In an interview with Ellen DeGeneres, Henson spoke about her friend's win. "I think the universe is happy," she said. "Viola deserved that reward, and, honestly, I would have felt weird if I had gotten it over her. She's been doing it longer and you just have to give respect and know when your time is."
3. Sometimes your coworkers become your friends for life.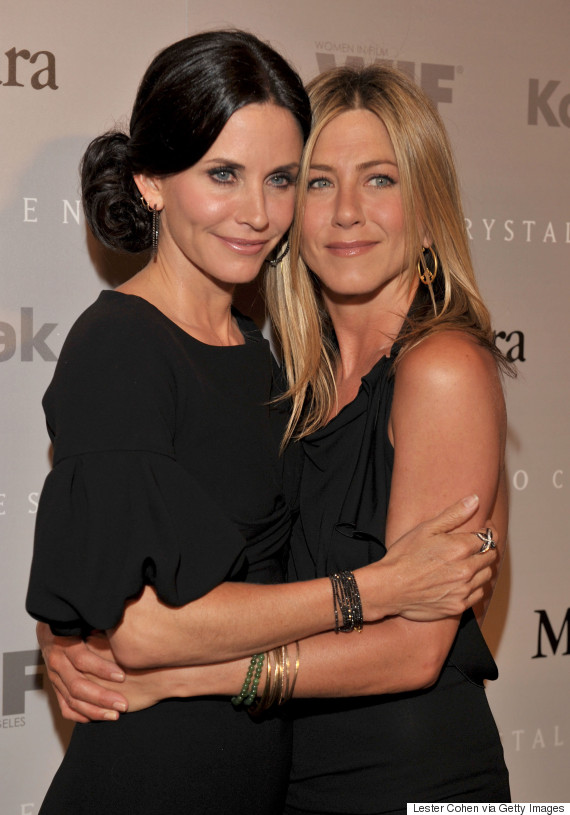 Courteney Cox and Jennifer Aniston at the 2010 Crystal + Lucy Awards in 2010.
Losing friends as you get older is an unfortunate fact of life. Luckily, one of the best places to form new friendships is at work.
In 1994, Jennifer Aniston and Courteney Cox met on the set of "Friends" and have been BFFs ever since. Over the years, the two have been there for each other through all of life's ups and downs, including the birth of Cox's daughter Coco, both of their divorces and Aniston's second marriage.
In 2014, Aniston, who is the godmother of Cox's daughter, spoke of their friendship. "There's absolutely no judgment in Court," she told More magazine. "You'll never feel scolded. She's extremely fair, ridiculously loyal and fiercely loving."
She also added: "[Courteney's] been there for me through thick and thin."
4. Wine can strengthen any bond.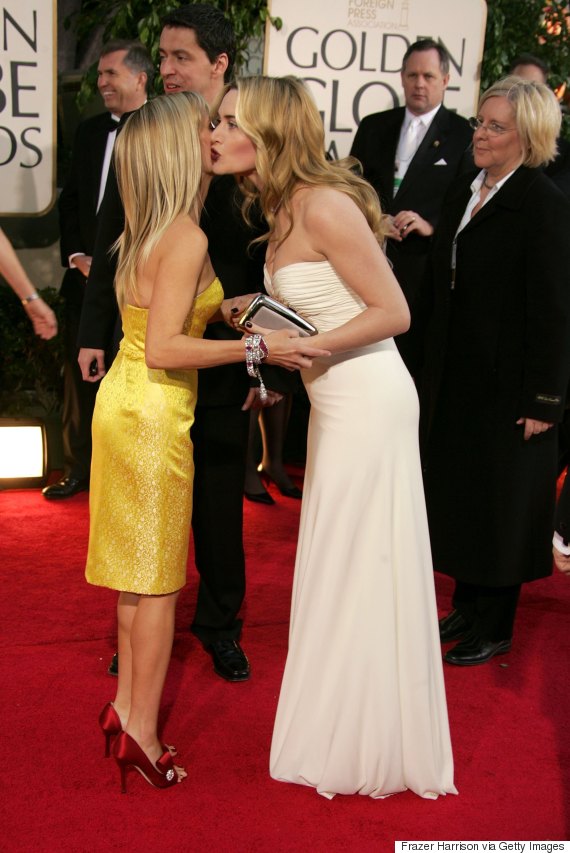 Reese Witherspoon and Kate Winslet at the 2007 Golden Globe Awards.
Kate Winslet and Reese Witherspoon might seem like an odd pair, but the two actually became fast friends thanks to the suggestion of wine.
Recalling their first meeting in 2007, Witherspoon said, "Imagine my good fortune when Kate Winslet moved into my neighbourhood, rang my doorbell, and said, 'Dahling, Sam [Mendes] is off shooting and I believe our children are the same age. Could they possibly have a playdate, and, oh, by the way, it's almost 9 o'clock and I've had nothing to drink – do you have any wine?'"
5. Besties always have the cutest nicknames for each other.
Salma Hayek and Penelope Cruz have been friends for over 20 years and have watched each other grow. During their years of friendship, they came up with a cute nickname for each other: "huevos," which means eggs.
"She's one of my best friends," Cruz told Allure in 2014. "We call each other huevos. It was because when we were working together, we didn't have children yet, so we used to sleep much more than now. So it was a way to call each other lazy. We slept in the same bed so many times, and it was like she was always trying to wake me up and call me huevos."
6. Your bestie will love you even when you don't love yourself.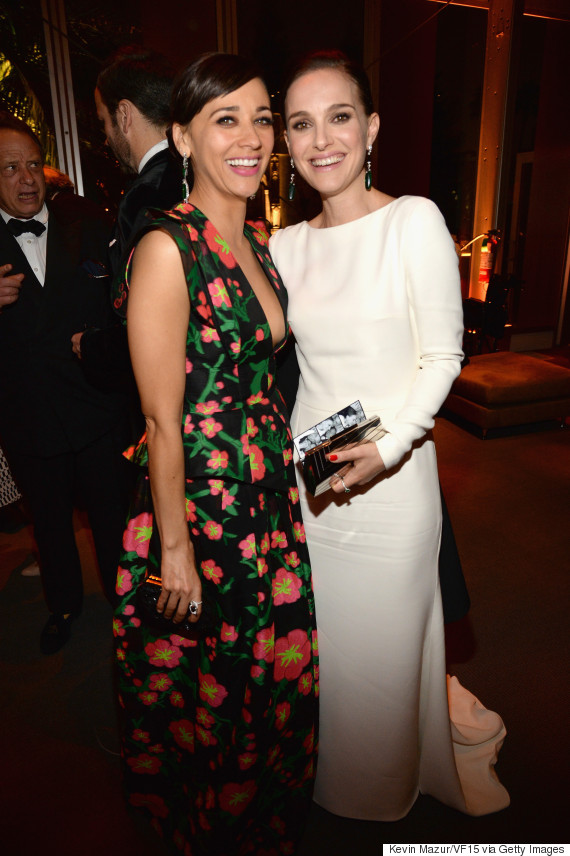 Rashida Jones and Natalie Portman at the 2015 Vanity Fair Oscar Party.
The best part about having a BFF is that they love you for who you are. While Natalie Portman and Rashida Jones have kept their friendship on the down low for years, Jones describes their relationship as being full of love.
"[Natalie] would fight beasts 10 times her size to protect the people she loves," she told MTV back in 2009. "She is the kind of friend who can sub in and love you through the times when you can't necessarily love yourself."
If that's not friendship, we don't know what is!
7. #NoNewFriends is not a rule you should live by.
Sure, everyone has their own group of friends who they know will stick by them no matter what. But that doesn't mean you can't make new ones every now and then. Mindy Kaling, Oprah Winfrey and Reese Witherspoon's friendship reminds us of that.
The trio was spotted in New Zealand last month having the time of their lives as they filmed Disney's "A Wrinkle in Time." Clearly new friendships mean new adventures!
8. BFFs aren't afraid to express their love and admiration for one another.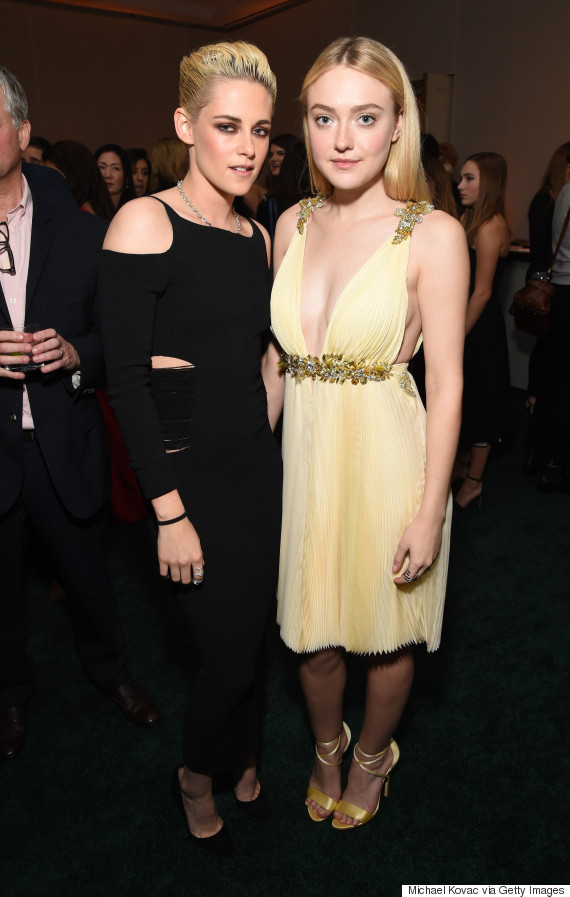 Kristen Stewart and Dakota Fanning at the 23rd Annual ELLE Women In Hollywood Awards.
After filming the "Twilight" series, Kristen Stewart and Dakota Fanning became friends. Since then, they have been very vocal about their friendship and we have to admit, it's the cutest.
Last year, Fanning got the chance to introduce Stewart at ELLE's Women in Hollywood Awards and she took the opportunity to gush about her bestie.
"I can honestly say that my friendship with Kristen is one of the most special bonds in my life," Fanning said. "She has held my hair back and talked me through heartbreak. She has always been there for me when I have needed her most and most of all she has taught me the power of being one hundred per cent yourself one hundred per cent of the time. I can't present an award to Kristen Stewart and not say 'fuck' so, lastly, I love you so fucking much."
9. And finally, your BFF will always be there to break you out of jail.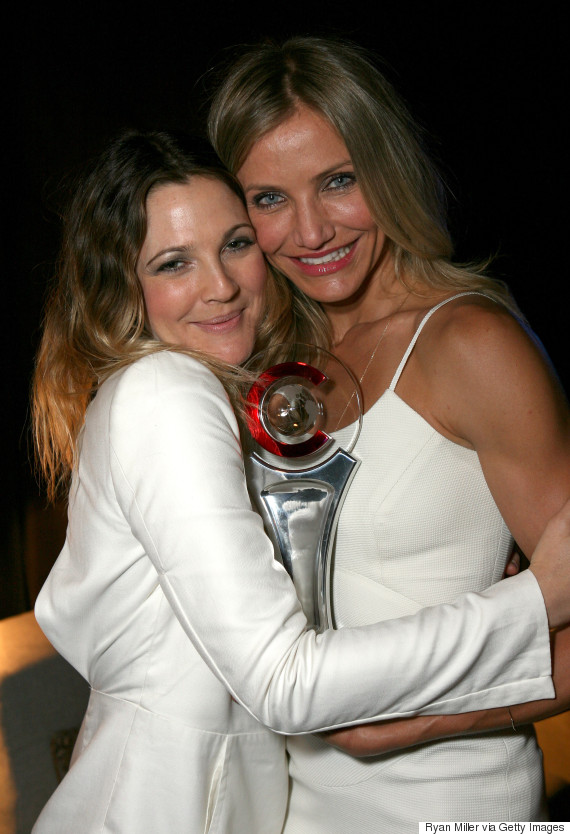 Drew Barrymore and Cameron Diaz at CinemaCon in Vegas on March 2011.
You know you are true friends when your bestie is willing to break you out of jail. At least, that's how Drew Barrymore measures her strong friendship with Cameron Diaz.
"Not that any one of us are going to jail anytime soon," Barrymore said last year. "But 100 per cent. She would, like, get in there and get you out."
The "Charlie's Angels" stars have been friends for 17 years and have always been there for each other. For instance, after Barrymore announced her split from Will Kopelman, Diaz revealed to People magazine that she was helping her friend cope.
"Everybody pulls the wagons around, you know, our friends, whoever needs us at whatever point in time, even if it's like something that the public doesn't know about," Diaz explains. "Internally we're all going like, 'OK, who needs us now?'"
Also on HuffPost
Amy Poehler And Tina Fey Being Best Friends