A university campus division of an Alberta political party is apologizing after an email stating "feminism is cancer" was sent to followers.
Wildrose on Campus sent the email to supporters Monday, promoting an upcoming screening of the 2016 documentary "The Red Pill" at the University of Calgary.
"You and I both know that feminism is a cancer," the email read. "To create a dialogue on campus, we have decided to take action."
So, this is a.) disparaging to women and b.) a slap in the face for cancer survivors. Way to go @TeamWildrose #ableg pic.twitter.com/K5mxE9RHnI

— jessica conlin (@jesspowless) March 7, 2017
A screen capture of the email was circulated on social media Monday night, with many responding with disappointment and outrage.
@jesspowless @TeamWildrose Thank you for sharing this. Disappointed in my Alma mater

— Carmen Hunt (@bigmeancarmen) March 7, 2017
@missmolamola @jesspowless yeah. It's embarrassing and insulting. @TeamWildrose should be ashamed.

— alison (@alisonborealis) March 7, 2017
NDP MLA and Environment Minister Shannon Phillips called out the email on Facebook, saying Wildrose leader Brian Jean and his party "need to explain why their party doesn't support women's equality."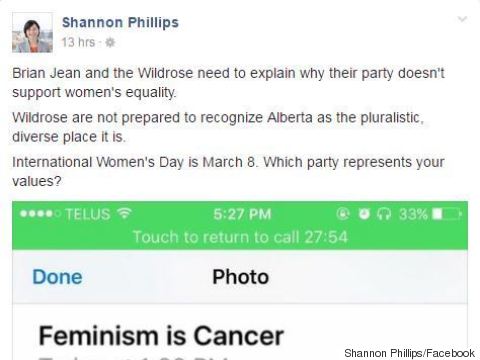 Jean responded on Twitter, saying "we need to encourage women to be engaged in the political process, not make them feel alienated."
We need to encourage women to be engaged in the political process, not make them feel alienated. Glad action was taken here. https://t.co/P6WM1lzAUa

— Brian Jean (@BrianJeanWRP) March 7, 2017
Wildrose on Campus took to social media to apologize several hours after the email was sent.
"We are very sorry for the comments that were made in an email sent out earlier today," the group posted on Facebook, adding that screening had been cancelled and the group's communications director fired.
"The Red Pill" is a documentary about a woman who sets out to document the Men's Rights Movement, but ultimately begins to question her own beliefs after spending a year filming the leaders and followers within the movement.
Also on HuffPost
10 women on why feminism still matters