It's no secret that designer Stella McCartney has been a long-time advocate for animal-friendly fashion.
After showcasing her line of luxurious faux-fur jackets during Paris Fashion Week in March 2015, the fashionista is back again to debut her own leather alternative material, which she calls "skin-free skin."
"Until recently, I avoided using fake [leather] because it never looked luxurious enough," McCartney told The Guardian. "I am so excited that we have finally developed fabrics that look just as good as the real thing and therefore genuinely pose a question to the industry about why anyone needs to use leather any more."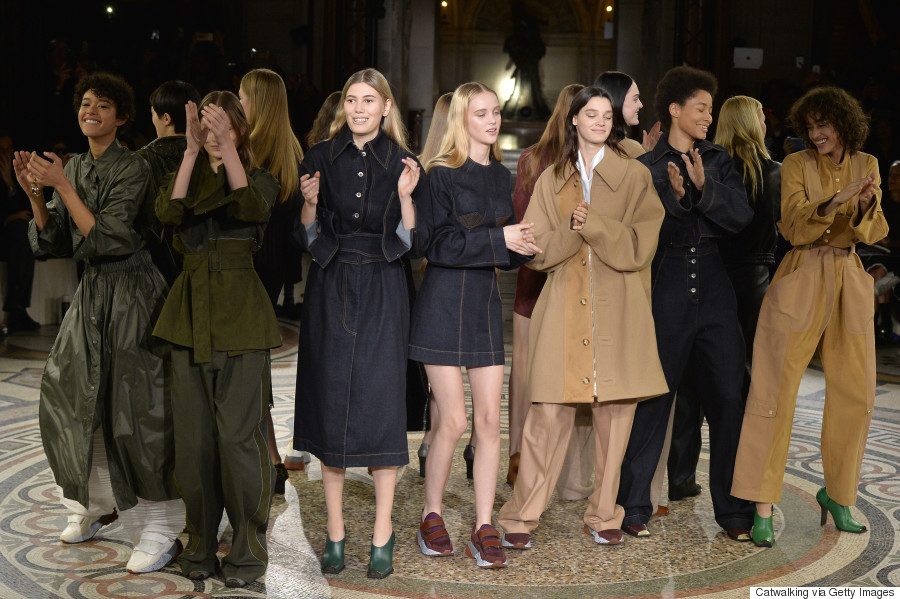 Models on the runway at the Stella McCartney Autumn Winter 2017 fashion show during Paris Fashion Week on March 6, 2017 in Paris, France. (Photo by Catwalking/Getty Images)
The daughter of music legend Paul McCartney shared similar sentiments about her fur-alternative line two years ago, and has always been one to champion progression towards ethical and environmentally-friendly fashion. One way the designer does this is by offering full transparency when it comes to the materials used to create her clothing.
As for this season, the collection featured mostly neutrals tones and included over-sized pants and jackets, various chic suede fits, running shoes and splashes of denim.
But the clothing wasn't the only vibrant aspect of the show.
Models, who were visibility diverse, closed the runway on a positive note, clapping, dancing and cheering to "Faith" by the late George Michael.
"Stella McCartney giving us a little FAITH," Teen Vogue editor Elaine Welteroth captioned the moment on Instagram. "THIS is how to kick off a rainy day of shows. Beautiful collection! And now I'm going to walk out my day with a pep in my step and George Michael stuck in my head."
Bravo, Ms. McCartney!
Also on HuffPost