It's been said before but we'll say it again: Karl Lagerfeld is a genius.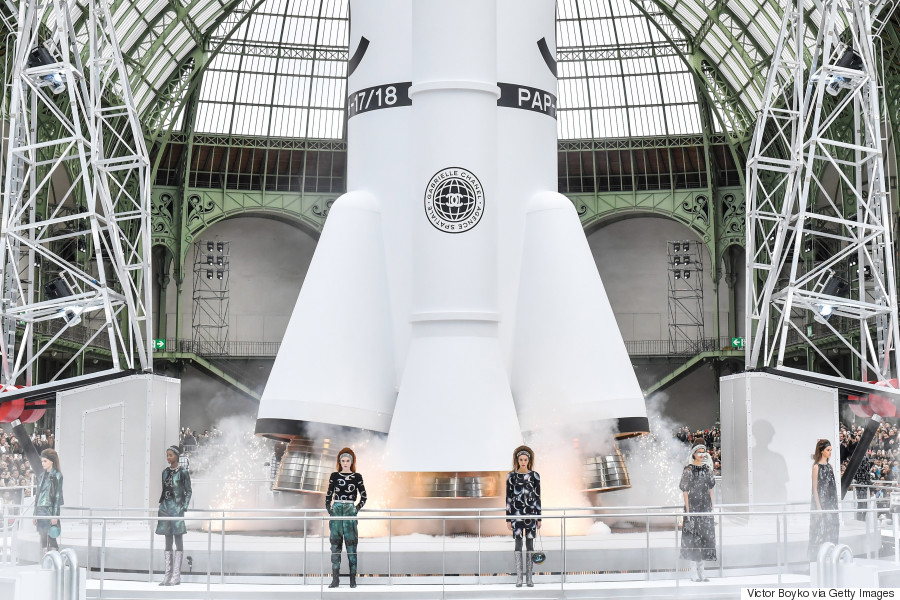 Models walk the runway designed as a space centre with a rocket taking off during the finale of the Chanel show on March 7, 2017 in Paris, France. (Photo by Victor Boyko/Getty Images)
The Chanel designer is known for holding elaborate runway shows at the Grand Palais in Paris and transforming the massive venue into, well, something that's always unexpected. For Spring 2017, it was a data storage centre. For Spring 2016, models "shopped" at a grocery store. And how could we forget the time Karl and his team transformed the Grand Palais into an airport?
This time, for Fall 2017, Lagerfeld boldly went where no designer has gone before: space (almost).
Yes, that rocket ship at the Chanel show at the Grand Palais did actually take off ... pic.twitter.com/GFCwAe6P0c

— stuart emmrich (@StuartEmmrichNY) March 7, 2017
The Grand Palais became the Chanel space centre, featuring a "rocket" and a "launch pad." After the models, sporting astronaut prints, alien-esque sunnies and rocket-shaped bags, walked the finale, they stood in front of the white-and-black Chanel-branded rocket, as a voice counted down to liftoff. And liftoff was actually achieved, smoke, sparks and all, to the tune of Elton John's "Rocket Man."
But how did the geniuses at Chanel pull off this incredible feat?
According to Dr. Mitchell Walker, professor of aerospace engineering at the Georgia Institute of Technology, the "rocket" wasn't real — instead, a hydraulic lift was used to achieve "liftoff."
"It has lights to look like fire, and smoke like you'd see used at Halloween to make it look like an actual liftoff, but it's not," he told Yahoo Style.
After watching video of the "liftoff," Walker, who didn't work on Chanel's rocket, said that the rocket's makers put a crane in the middle of the craft to pull it up slowly. Smoke, lights and sparklers created the illusion of a real-looking blastoff.
"A real launch would have killed everyone in the room," he said.
"For a rocket to take off, exhaust has to leave the vessel really fast — faster than speed of sound," he said. "In this, you can see smoke coming down, and you'd never be able to see that. It obviously had to be safe for the ladies to stand around it."
As for why Lagerfeld wanted to visit the final frontier? "It's not that great down here for the moment," he told fashion reporter Tim Blanks for Business of Fashion.
Lagerfeld admitted that it took his team six months to put the rocket set together. "It's not something you can do in two weeks," he said.
"There's a Frenchman up [in space] who I like a lot... that's the only part of the universe we don't know," he said, explaining why he decided to go with a space theme for the collection.
As for how much it cost to install a fake rocket? We don't really want to know, but considering Chanel reportedly spent US$1.6 million to "build" a Chanel island in Dubai for their Cruise show in 2014, we're assuming the budget for planets and beyond was broken.
Watch the full runway show below: