So much so that a number of black models took to the Parisian streets outside the Balenciaga show on March 5 to take a stance against the all-white catwalks.
This year, Balenciaga only featured four black models out of a total of 47.
Model Indi Irvin was on the front lines of the protest — topless — and wasn't afraid to speak her mind.
"You can be sure the police were not so happy with us and the crowd went wild as tensions heated," she said, according to Cosmopolitan. "In Paris, to protest you must get permission from the police days before and they have to approve. Also nudity is not [allowed]. But I'm all about breaking the rules esp. when it comes to nipple equality and women and culture rights!!!"
She added, "2017 was a big year not only politically but also for my modelling career as it was my first season in the European market. It is very different here compared to the NYC I'm used to... I have never seen another model protest in this way so I felt obligated to make a stand."
"I've always wanted to see diversity on the runway because it's important that women have an image that they can relate to," the 26-year-old declared. "I think there have been improvements, and I think it's down to the equality created by social media, which extends beyond the catwalk. It provides an opportunity for everyone to voice their opinion on what they like."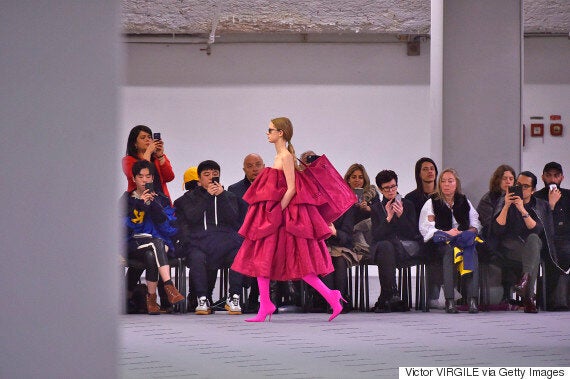 "I was very disturbed to hear from a number of girls this morning that yesterday at the Balenciaga casting Madia & Ramy (serial abusers) held a casting in which they made over 150 girls wait in a stairwell told them they would have to stay over 3 hours to be seen and not to leave," he wrote in an Instagram post in late February. "In their usual fashion they shut the door went to lunch and turned off the lights, to the stairs leaving every girl with only the lights of their phones to see."
"Not only was this sadistic and cruel it was dangerous and left more than a few of the girls I spoke with traumatized."
"On top of that I have heard from several agents, some of whom are black that they have received mandate from Lanvin that they do not want to be presented with women of colour," he wrote.