To mark International Women's Day on March 8, Beyoncé, Salma Hayek, Madonna and a whole slew of other celebrities signed an open letter for gender equality.
Global Citizen published the letter in partnership with Chime for Change, an organization co-founded by Beyoncé and Hayek to "convene, unite and strengthen the voices speaking out for girls and women around the world."
An open letter signed by many of us on#IWD2017 from @ChimeforChange published in major publications: #womensrightsarehumanrights pic.twitter.com/6a3YR1wZ8v

— Sharmeen Obaid (@sharmeenochinoy) March 8, 2017
The letter begins by stating that this is a "critical moment in history."
"All over the world, women are on the frontlines fighting for our future," the letter reads. "Yet millions of girls and women are still denied basic equal rights. And recent policies and appointments in the United States jeopardize its position as a global leader and positive role model on human rights."
"We stand together to say, in a voice louder than ever, that fighting for gender equality is the emergency and the opportunity of our time," it continues. "We fight for education. For health. For justice. For every girl. Every woman. Everywhere. We fight for our future. Because none of us can move forward if half of us are held back."
The letter appears to take aim at U.S. President Donald Trump, whose policies and past derogatory comments about women's bodies has sparked a number of women's protests.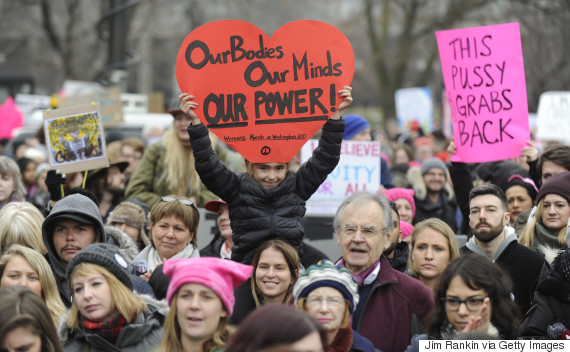 Toronto's Women's March at Nathan Phillips Square in January.
Not only was the letter signed by a number of famous women, including Julia Roberts, Dakota Johnson and Jada Pinkett Smith, but famous men as well, such as Gucci CEO Marco Bizzarri, John Legend and members of the band Coldplay.
The open letter couldn't have come at a better time. Not only did it coincide with International Women's Day, but also "A Day Without A Woman," a protest where women refused to work for the day to encourage gender equality and to demonstrate how integral women are to their communities and the world.
Visit Global Citizen to read the full letter.
Also on HuffPost
Women's March In Canada, January 2017