The family of an indigenous Thunder Bay woman is still angry that she was handed a $155 jaywalking ticket just days after being seriously injured in a car accident last month.
Geraldine Mamakwa, 46, was crossing the street to catch a bus Feb. 13 when she was hit by a vehicle, according to the Toronto Star.
Her sister MaryEllen Thomas told The Huffington Post Canada that Mamakwa was left with a broken leg so serious she needs physiotherapy to learn to walk again, along with a fractured skull and psychological trauma.
Two days after the accident, Mamakwa called her in tears to say that police had visited her hospital room to hand her a collision report and a jaywalking ticket.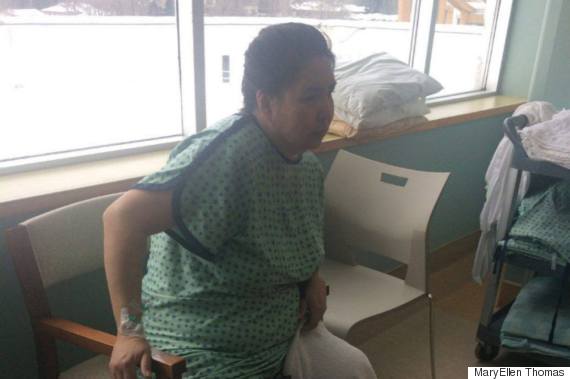 Geraldine Mamakwa is still recovering at St. Joseph's Care Group in Thunder Bay and is undergoing trauma counselling. (Photo: MaryEllen Thomas)
Thomas told HuffPost she couldn't believe that the vehicle was travelling eight kilometres an hour based on her sister's injuries.
She also said people jaywalk across that stretch of street all the time — when she stood there for about an hour on Thursday morning, she noticed 21 people cross the road. For a couple of blocks, there are no crosswalks.
Mamakwa also has impaired mobility and vision due to a previous battle with brain cancer.
But what really shocked her sister was how police delivered the fine. Mamakwa had just had surgery to repair her leg on Feb. 15.
"She was in no condition to deal with this," Thomas said.
"For an officer to go in like that, and hand her these things, that to me, was very callous."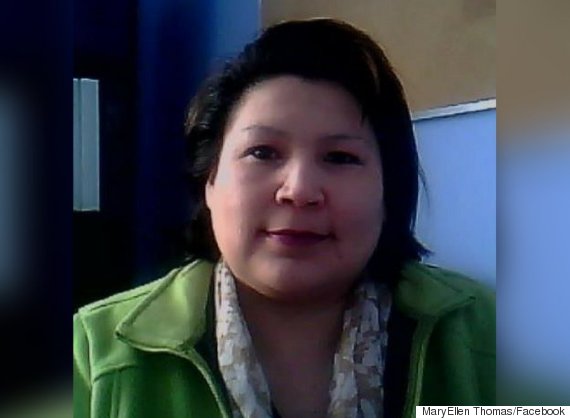 MaryEllen Thomas is angry about how her sister was treated after her accident. (Photo: MaryEllen Thomas/Facebook)
Mamakwa has pleaded not guilty to the charge and has a date in provincial court on May 4, Thomas said.
In a letter sent to Thunder Bay's police chief and its mayor, Mamakwa's father Gerry McKay, CEO of the Independent First Nations Alliance, said he was concerned that the accident was a hit-and-run.
Letter to Mayor of Thunder Bay Chief of Police Collusion Report and Fine by Emma Prestwich on Scribd
But police and a witness both told CBC News that the motorist stayed at the scene.
"For an officer to go in like that, and hand her these things, that to me, was very callous."
Rachel Wilson, who was driving down the street, told CBC that she saw Mamakwa cross the road, but that the truck was going so slowly that she assumed the woman would make it. Then she saw her on the ground.
"I consoled her as best as possible but the person who hit her never left, never left [the] scene," she said.
"The cops were there, the ambulance had come, traffic was kind of rerouted down the next street."
But regardless of what happened, McKay said in his letter, he is displeased by how his daughter was treated by police, calling their actions "callous and unbalanced." He wants an apology for her.
'She was not fair game to be run down without consequences'
Both he and Thomas also are angry that she was quickly considered to be at fault.
"Whether or not Geraldine was jaywalking, she was not fair game to be run down without consequences," he said.
"The driver must realize that he is in control of a potentially lethal weapon and do all in his power to avoid striking a pedestrian, regardless of the circumstances."
McKay sees her experience as part of a pattern of how indigenous people are treated by law enforcement, especially in cases when they've been injured as pedestrians.
"I still question the circumstances of the accident, and the conduct of the investigating officer," Thomas said.
Follow The Huffington Post Canada on Facebook, Twitter, and Instagram.
Also on HuffPost
Indigenous Concerns In Canada