Time magazine is in hot water after it posted a tweet focused on Amal Clooney's baby bump rather than the powerful speech she delivered at the United Nations on Thursday.
"Amal Clooney shows off her baby bump at the United Nations," the tweet read, followed by a link to its sister site Time Motto, where they published an article about Clooney's pregnancy style.
Amal Clooney shows off her baby bump at the United Nations https://t.co/0Vkr8aad1D

— TIME (@TIME) March 10, 2017
On Twitter, many were appalled and offended that the trusted site, known for its thoughtful and informative articles, would choose to focus on Clooney's appearance rather than her accomplishments. One even called the article "lazy" and "sexist."
@TIME @motto She was there for a serious topic and you tweet about her baby bump. Is this Time or TMZ?

— Kate (@4fromthekitchen) March 10, 2017
@TIME This is lazy and sexist journalism, period.

— Grace Bonney (@designsponge) March 10, 2017
@TIME So act like a real member of the press & report on what she said. This, right here, one day after #IWD is proof why we need it. 2/

— ravenwolf68 (@ravenwolf68) March 10, 2017
The @TIME article is as bad as the headline. Including accessorizing a women who survived ISIS. pic.twitter.com/uF4YcmDfLa

— Cian Mac Mahon (@Cianmm) March 10, 2017
Many also noted that Clooney is more than just a mom-to-be.
@TIME You gotta be so embarrassed for this. She is a world-renowned human rights lawyer.

— Kayla Tanenbaum (@KaylaTanenbaum) March 10, 2017
.@TIME @motto wow. I am shocked at how disrespectful that headline is to the critical work she was doing.

— Janice Person (@JPlovesCOTTON) March 10, 2017
Despite the backlash, Time wasn't the only site to focus on the 39-year-old's maternity wear. Hollywood Life published an article with the headline, "Amal Clooney Puts Her Growing Baby Bump On Display In Chic Yellow Dress For UN Speech," while Mirror UK wrote, "Amal Clooney is a vision in yellow as she shows off hint of baby bump in chic dress."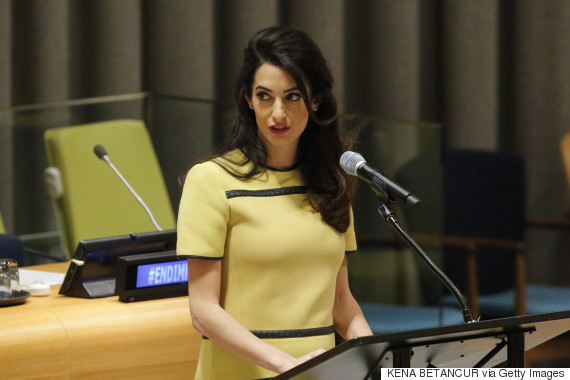 For the record, Clooney – who is expecting twins with husband George Clooney – was at the UN to urge the organization and the Iraqi government to launch an investigation into the crimes committed by ISIS.
"I am speaking to you, the Iraqi government, and to you, UN member states, when I ask: Why? Why has nothing been done?" she said.
Specifically, Clooney vocalized the concerns of Yazidis, a Kurdish community in Iraq that has been targeted by ISIS.
"ISIS has made clear that it intends to destroy Yazidis, like [my client] Nadia, completely: through killings, forced conversions, and rape," she said. "The UN has concluded that ISIS is committing genocide against this group, and there can be no more serious crime."
"The UN was created as the world's way of saying 'never again' to the genocide perpetrated by the Nazis. And yet here we are, 70 years later, discussing the UN's inaction in the face of a genocide that we all know about, and that is ongoing. Don't let ISIS get away with genocide."
Watch the video above to hear more.
Also on HuffPost
Celebrity Babies We'll Meet In 2017