The cost to upgrade from an Air Canada economy seat is significant, but now you can bid for a fancier spot for potentially less than the upfront price.
The airline now offers customers the chance to upgrade their seat to either premium economy or business class by submitting an offer online.
"The program is designed to generate additional revenue by offering customers an opportunity to upgrade at the last minute," Air Canada spokesperson Peter Fitzpatrick told CBC News in an email.
The program will be fully in place by the summer.
Premium economy offers larger seats that recline further and more legroom, with free booze and food and a higher baggage allowance than economy. Depending on where you're flying, business class offers anything from a personal workstation and Maple Leaf Lounge access to a fully reclining bed.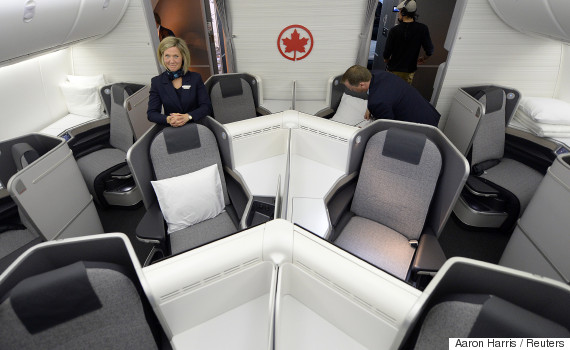 Air Canada's Boeing 787 Dreamliner business class is seen during the unveiling of its brand new international interior product at Pearson International Airport in Toronto, May 20, 2014. (Photo: Aaron Harris/Reuters)
Not at all flights are eligible, but you can find out about yours by entering your booking reference and last name on Plusgrade's website. Eligible passengers who booked their flights through the Air Canada site may also be invited via email to make a bid.
You have until 96 hours before your flight to make an offer or change or cancel an existing one. If your bid is accepted, you'll be notified within 48 hours of departure and your credit card will be charged.
It's an enticing idea, but the prices offered aren't always lower than upfront costs.
Huffington Post Canada Living Editor Chloe Tejada paid $2,433 including tax for a round-trip flight for two people from Toronto to London, England at the end of May. One cursory search of Air Canada's website shows she would have paid roughly $3,800 for two premium economy tickets, and anywhere from $6,000 to $14,000 for business class seats.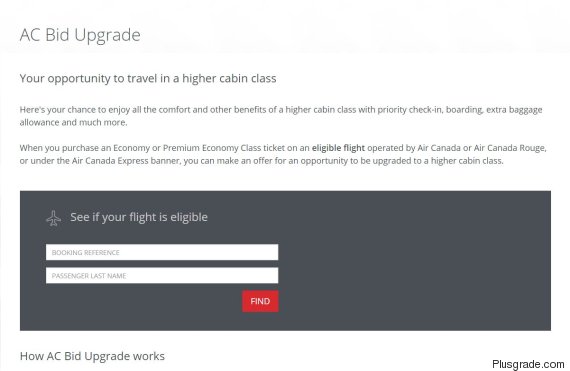 When she searched Plusgrade to see if she could bid for an upgrade, she was given an bid range of an additional $800 to $1,950 per person per one-way flight for premium economy, and an additional $950 to $2,300 for a business class seat. For business class, $1,380 to $1,600 was considered a "good" offer. So to have a good chance at business class, she'd have had to bid more than $5,000 extra for the whole trip.
Story continues below slideshow
Inside Air Canada's 787 Dreamliner



One travel blogger who opted to enter a bid for a flight from Toronto to Dubai told CBC News he was allowed to offer between $400 and $900 for an upgrade from premium economy to business. Anshul Singh's flight cost $718 and a business class ticket was $2,248.
He entered $500, a low bid, the site warned him. Later, he found out the offer was rejected.
"I was a little disappointed that $500 didn't cut it," he told the broadcaster.
Air Canada isn't the only airline that offers this service. Lufthansa, Qantas, Air China and Cathay Pacific all use Plusgrade.
Plane tickets are already expensive, and we doubt that this new program will put business class tickets within financial reach of most Canadians.
However, if you have several hundred extra to blow, bidding might be worth it. The legroom in economy isn't getting any bigger.