Thousands of cyclists were expected to take part in the world's largest timed cycling race this weekend — but things didn't go as planned.
Fiercely strong winds — at times clocking 100 kilometres per hour — forced organizers to cancel the 40th annual Cape Town Cycle Tour.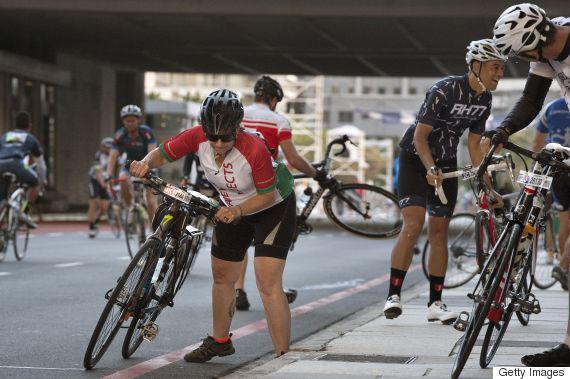 Cyclists battle against strong winds at the start of the Cape Town City Cycle Tour on March 12. (Photo: Rodger Bosch/AFP/Getty Images)
The South African event drew 35,000 cyclists this year, according to The Guardian. They were only able to ride 21 kilometres of the 109 kilometre race before it was deemed too dangerous.
Cyclists fell off their bikes and struggled to walk as they tried to return indoors. (Watch the video above for more.)
Windy weather in Cape Town is no surprise. The city is bombarded by gusts from the Atlantic Ocean between October and March. The winds are nicknamed "Cape Doctor," because early settlers believed they would cure illnesses, according to the city's tourism site.
Follow The Huffington Post Canada on Facebook, Twitter, and Instagram.
Also on HuffPost