Paul Sun-Hyung Lee of "Kim's Convenience" was applauded for winning Best Actor in a comedy series at the 2017 Canadian Screen Awards Sunday night, but he deserves a standing ovation for his moving speech about family.
The 45-year-old actor, who plays Appa in the CBC sitcom about a Korean-Canadian family, not only spoke about being an immigrant, but about representing an immigrant family onscreen.
"I've never been more proud to be a Canadian than right now" @bitterasiandude @KimsConvenience #CdnScreenAwards pic.twitter.com/cwYH4mxtit

— Canadian Academy (@TheCdnAcademy) March 13, 2017
"I'm living in a dream. Thank you so much," he began. "I have to say that I am an immigrant and I am a Canadian. In this weird sort of political time, the portrayal of an immigrant family on a national broadcaster doing what all families do – which is try to make a life for themselves through the laughter, through the tears, through the fights, through the love – is so much more important now than ever before."
"It normalizes us, and it shows people that we might have some cultural differences, but when it comes to family, we are all the same," he continued. "Our strength has been and always will be diversity in this country. And I've never been more proud to be Canadian than I am right now."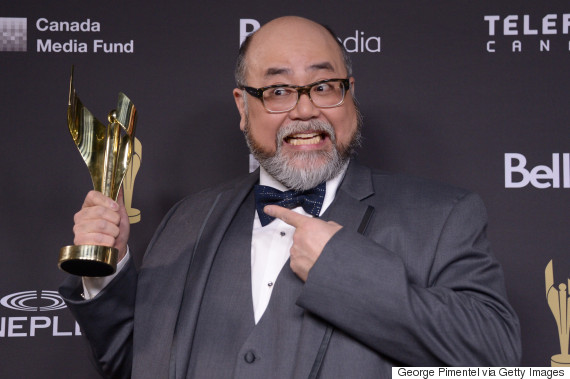 Paul Sun-Hyung Lee poses in the press room at the 2017 Canadian Screen Awards.
To end his speech, Lee thanked his wife and sons, and said: "See? Anything can happen, anything is possible. So aim high and keep dreaming."
It's rare to see a series that not only stars an immigrant family, but also highlights their struggles, which is why "Kim's Convenience" is such an important addition in Canadian television. Not only that, but the show also features four Asians as its lead stars – another rare sight.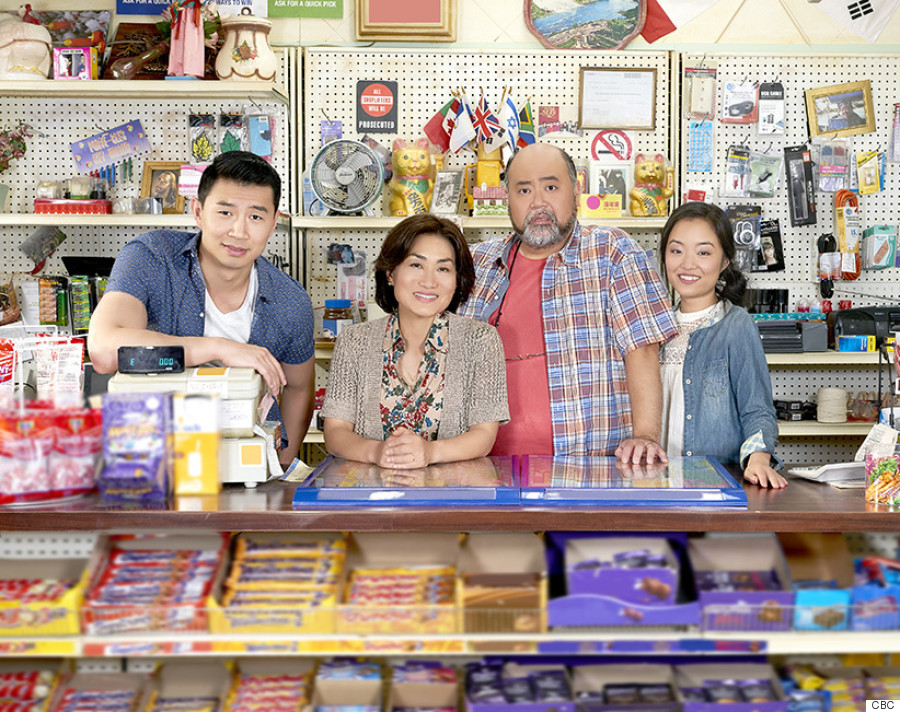 The cast of "Kim's Convenience."
Since the show first aired in October, viewers have applauded it for finally representing the Asian immigrant experience on screen.
#KimsConvenience was a profound mix of laughter and tears...the Kim's represent every immigrant family adapting to life here...

— Samuel J. Yoon (@samueljyoon33) October 12, 2016
Another nice thing about #KimsConvenience is the diversity of the guests/side chars. Weren't written like token chars or shoehorned in.

— Daze @ FilmBeats (@FilmBeatsDaze) December 28, 2016
#KimsConvenience was hilarious! My kids love @bitterasiandude! Finally a show that reflects the diversity in our awesome city #okseeyou

— Zeenath (@LankanLioness) November 23, 2016
I started watching #KimsConvenience shortly after abruptly having to move to Toronto's Koreatown.
It made me feel at home.
Thanks.

— Sedona Parnham (@Anodesu) January 10, 2017
Now that the show's actors are gaining recognition for their work, fans couldn't be happier.
It was BEAUTIFUL to see the #KimsConvenience cast feeling emotional for Paul's win!! 😭😭 Strong group! Strong tv family! #CdnScreenAwards

— KimsConvenience Fans (@kimbits416) March 13, 2017
Best acceptance speech yet, Paul Sun-Hyung Lee: "Yeah, I deserve." #KimsConvenience #CdnScreenAwards

— Debra Yeo (@realityeo) March 13, 2017
Congradulation Mr. Paul Sun-Hyung Lee to win #cdnscreenawards 💪 so proud to be a Canadian 💪 🇨🇦🇨🇦🇨🇦♥️♥️♥️ and what a show #kimsconvenience

— amir (@amir_he) March 13, 2017
Also on HuffPost
Swoon-Worthy Asian Actors