Cruises — a calm, stress-free way to see the world, right?
Video that has recently emerged from aboard a storm-whipped cruise ship is so intense and, frankly, terrifying, it may change the way you think about this mode of transportation.
Stephen Burke was a passenger on Royal Caribbean's Anthem of the Seas ship, which left New Jersey bound for Florida and the Bahamas in February 2016 when it hit hurricane-force winds and was forced to turn back.
He captured footage from one of the ship's windows, as huge waves battered the glass and the sea churned outside. (Watch the full video above.)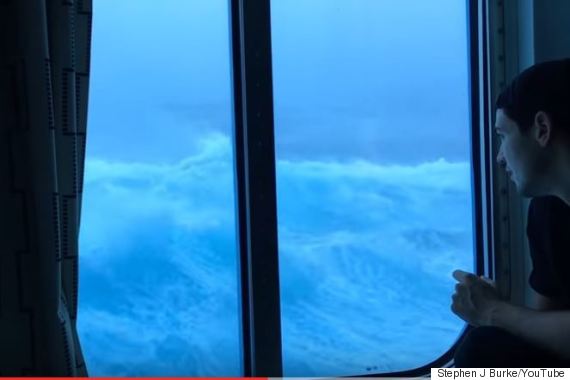 It was NOT smooth sailing aboard this vessel. (Photo: Stephen J Burke/YouTube)

"We're not even moving. We're just staying in one place, trying not to die," he jokes at one point.
The ship swayed so much, that Burke was even able to film a friend struggling to stand up straight while walking down a hallway.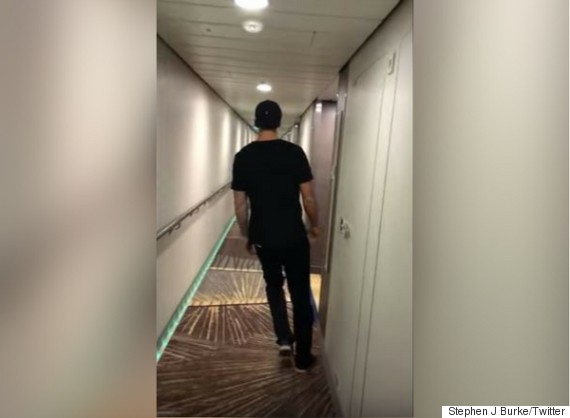 (Photo: Stephen J Burke/YouTube)
The ship was carrying 4,500 passengers and 1,600 crew members when it sailed toward the storm, despite a warning from the U.S. National Weather Service Prediction Center.
At the height of the extreme weather, winds exceeded 190 kilometres per hour and waves swelled to almost eight metres high.
Passengers were told to stay in their rooms, and when they came out, they found some obvious damage.
Deck 14 needs some work... #anthemoftheaeas pic.twitter.com/oBn5Q862qs

— Greg (@flatgreg) February 8, 2016
...and some more. #anthemoftheseas #overthis #rocktheboat pic.twitter.com/pvBjYa6CrM

— Leanna Nicole (@LeannaPetrone) February 8, 2016
Royal Caribbean gave passengers a full refund on the trip and offered them a 50 per cent discount on an upcoming voyage.
Follow The Huffington Post Canada on Facebook, Twitter, and Instagram.
Also on HuffPost
10 Things NOT To Do On A Cruise