It's Tatiana Maslany's world and we're all just living in it!
On Sunday night, the Canadian actress won not one but three trophies at the Canadian Screen Awards at Toronto's Sony Centre.
Tatiana Maslany left her two #CdnScreenAwards at her seat so she picked up this one instead. #cbcent pic.twitter.com/dwTnPOYXge

— Haydn Watters (@HaydnWatters) March 13, 2017
The 31-year-old won for both her TV and movie work: Performance by an Actress in a Continuing Leading Dramatic Role for playing clones in the hit BBC America series "Orphan Black" and Performance by an Actress in a Leading Role for her role in the romance drama "The Other Half." She also nabbed a trophy as part of "Orphan Black's" Best Dramatic Series win, as she's a producer on the show.
While accepting the best film actress "Candy" award for her work in "The Other Half," Maslany paid tribute to her costar and boyfriend, British "Downton Abbey" star Tom Cullen.
GANHOU! Tatiana Maslany ganha como Melhor Atriz em Filme por seu papel de Emily, em @otherhalfmovie! ❤❤❤ #CdnScreenAwards pic.twitter.com/iRogsWkfC2

— Tat Maslany Brasil (@TatMaslanyBR) March 13, 2017
"My Tom, my other half, you are electric and fearless and generous and the kindness you bring to set is inspiring and the bravery in your work is what I think of every day on set, and every day my whole life. You're my whole heart."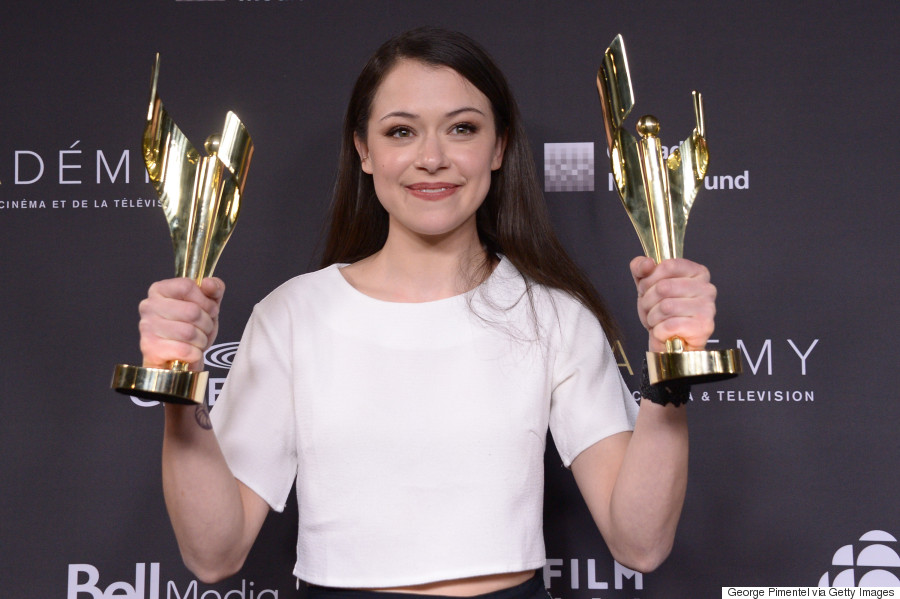 Tatiana Maslany poses in the press room at the 2017 Canadian Screen Awards at Sony Centre For Performing Arts on March 12, 2017 in Toronto, Canada. (Photo by George Pimentel/WireImage)
Cullen also gave a shoutout to his girlfriend on Twitter after her win.
That's my girl @tatianamaslany @otherhalfmovie

— Tom Cullen (@tom_cullen) March 13, 2017
"That's my girl @tatianamaslany @otherhalfmovie," he tweeted.
Maslany also dedicated her "Orphan Black" win to her fellow clones: "This is for all of my sestras, my beautiful sestras."
The series, which nabbed 14 TV category nominations and picked up the prize for Best Dramatic Series, is currently filming its fifth and final season, which is set to premiere June 10.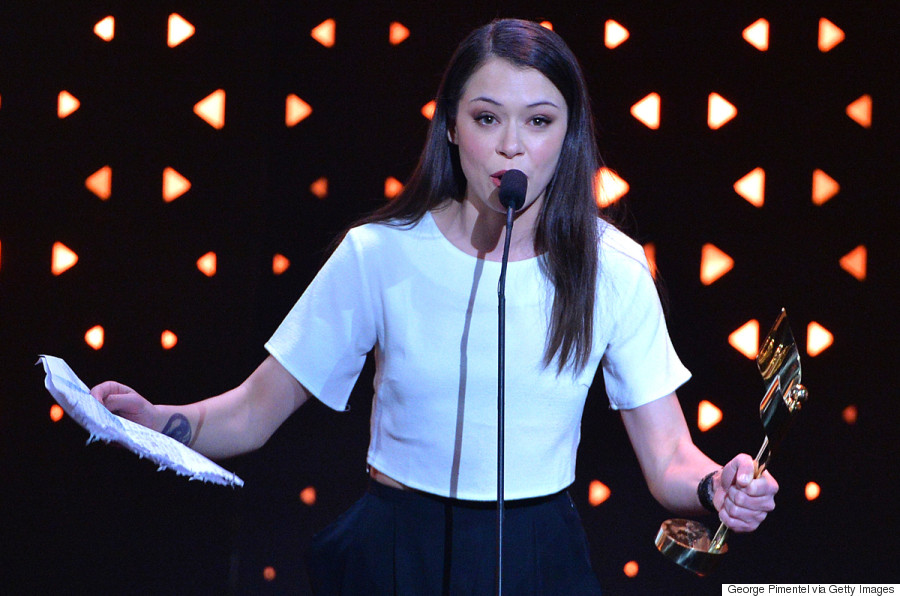 Last year, Maslany won her first Emmy for Outstanding Lead Actress in a Drama Series for playing multiple clones in "Orphan Black."
"I'm so lucky to be in a show that puts women at the centre," she said during her acceptance speech.
Thanks #CloneClub!! We make a family, yes? 👯👯‍♂️ pic.twitter.com/wyDjnWzKNL

— Tatiana Maslany (@tatianamaslany) March 13, 2017
Best actor in a leading role: Stephan James, "Race"
Fan choice award: Natasha Negovanlis
Best comedy series: "Letterkenny"
Best motion picture: "It's Only the End of the World"
Best actor in a comedic role: Paul Sun-Hyung Lee, "Kim's Convenience"
Best actress in a comedic role: Catherine O'Hara, "Schitt's Creek"

Best Performance by an Actress in a Supporting Role: Molly Parker, "Weirdos"
Best Performance by an Actor in a Supporting Role: Vincent Cassel, "It's Only the End of the World"

Best Achievement in Direction: Xavier Dolan
Earle Grey award: Tantoo Cardinal
Also on HuffPost