Falling asleep at the wheel is the last thing any trucker wants to do. But residents of a small Newfoundland town say their efforts to caffeinate are causing bigger safety issues.
The Tim Hortons in Port aux Basques, on the island's southwestern coast, is a popular pit stop with truck drivers who've just disembarked the Marine Atlantic ferry from Nova Scotia.
Located right before the Trans-Canada Highway leaves town, it's their last chance for coffee or a doughnut for 100 kilometres, according to The Gulf News.
"It's difficult because we're the entry port to the province, and every morning and every evening, assuming the boats are on schedule, we have a full boat load of traffic that's being unloaded and headed east on the highway," RCMP Port aux Basques detachment supervisor Const. Matthew Christie told the publication.

But the restaurant is on a nearby street, so drivers park their big rigs on the side of the highway and run across to Tim's, Port aux Basques Mayor Todd Strickland told CBC News.
Sometimes there are 12 to 14 vehicles parked on either side of the road, he said.
"Smaller vehicles have to go through a gauntlet of tractor trailers, not knowing if someone is going to dart out in between vehicles," he told CBC.
It's an ongoing problem he thinks has been getting worse lately. He doesn't know why — there are a number of "no parking" signs in the area.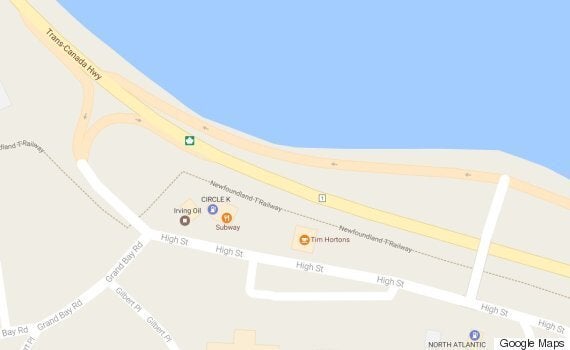 Residents are also concerned about visibility. A photo posted to a local Facebook page of a parked truck on the Trans-Canada on-ramp sparked a number of complaints, the Gulf News reported.
One person said she can't properly check for oncoming traffic before merging onto the highway when drivers park at the bottom of the on-ramp.
The debate is also raging on Twitter, with some arguing the town needs to create a spot to accommodate the truckers.
One person suggested a solution with the installation of a traffic light and extending the shoulder where trucks park.
Another said the area needs a truck stop, saying many of the big rig drivers don't come off the ferry at all, instead just pick up and drop off trailers at the Marine Atlantic terminal.
Police are aware of the problem, Christie told The Gulf News.
He said police would consider handing out tickets if a parked vehicle was blocking traffic flow.