TORONTO — Shares in Canada Goose, whose winter jackets have been made famous by the likes of celebrities Daniel Craig and Kate Upton, soared today in its debut on stock markets in Toronto and New York.
The Toronto-based company, ubiquitous for its $900 parkas with fur-lined hoods, debuted with an initial public offering of 20 million shares priced at $15 per share under the symbol GOOS.
Shortly after markets opened, Canada Goose shares launched at $23.86 on the Toronto Stock Exchange, later slipping to $21.58 as of 1:00 pm ET — an increase of some 43 per cent from the opening asking price.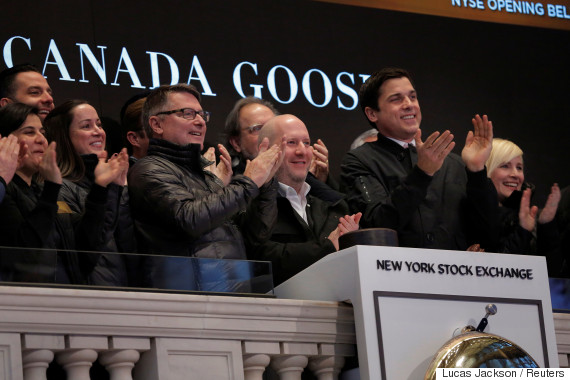 CEO of Canada Goose Dani Reiss applauds the company's first day of trading above the floor of the New York Stock Exchange shortly after the opening bell in New York, U.S., March 16, 2017. (Photo: Reuters/Lucas Jackson)
Founded 60 years ago in Toronto, Canada Goose has built a reputation for making among the warmest coats people can buy and have been favoured by both trekkers in Antarctica and fashionistas.
The company operates two retail stores in Toronto and New York and its products can be found in 36 countries worldwide. Investment firm Bain Capital owns 70 per cent of Canada Goose, which it acquired in December 2013. Bain will remain in control of the company after the IPO.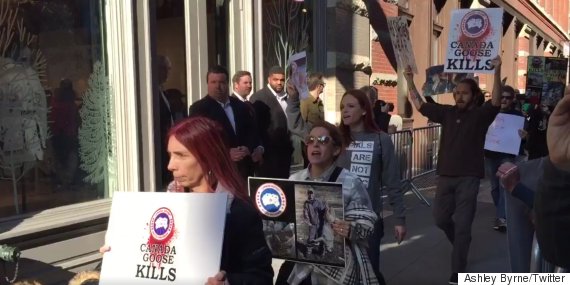 Protesters outside Canada Goose's first location in New York City, Nov. 17, 2016 (Photo: Ashley Byrne via Twitter)
Canada Goose said it had revenue of $290.8 million and net income of $26.5 million in fiscal 2016, according to securities filings.
It has also faced controversy, having been targeted by People for the Ethical Treatment of Animals for its use of coyote fur in its jackets.
The animal-rights group said it plans on buying around $4,000 worth of shares so it can speak at the company's annual meetings and urge it to stop using coyote fur in its jackets. That is a tactic the group has used in the past with other companies such as Lululemon, Hermes, Louis Vuitton and Prada.
— With a file from The Huffington Post Canada
Also on HuffPost
Canada Goose Jackets For Men And Women