McDonald's Corp. took the strongest stance of any corporation yet against U.S. President Donald Trump, labeling him "a disgusting excuse of a president" and calling for the return of President Barack Obama.
Except, of course, it wasn't the work of McDonald's itself. The company quickly pulled the tweet offline Thursday, explaining on social media that it had been told by Twitter its account had been "compromised."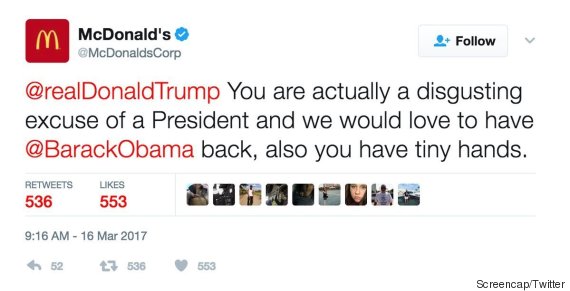 Screencap/Twitter
It's unclear whether the tweet was the work of a hacker or someone at McDonald's who went rogue, but Business Insider notes that the McDonald's Twitter account was sending out on-message tweets before and after the sudden outburst at Trump.
Trump himself is a fan of McDonald's. He once Instagrammed himself eating a McDonald's sandwich and fries, and reportedly had New Jersey Gov. Chris Christie delivering him his McDonald's meals.
Twitter notified us that our account was compromised. We deleted the tweet, secured our account and are now investigating this.

— McDonald's (@McDonaldsCorp) March 16, 2017
Also on HuffPost
McDonald's Sandwiches From Around The World