For the second time this winter, a young boy in New York state has died after becoming trapped under a collapsed snow fort.
Benjamin Wasik, 10, was digging a tunnel in a pile of snow in the town of Pendleton Wednesday afternoon, when it collapsed on him, the Niagara County Sheriff's Office told Buffalo News.
Wasik was buried for about 20 minutes before his father noticed he had disappeared and was able to dig him free.
He was rushed to hospital, where he was pronounced dead.
In December, a 13-year-old boy was also killed while playing in a snow fort.
Joshua Demarest was working with his best friend to dig a tunnel in a snow bank in Greenwich, N.Y. when the pile collapsed on the pair, reported KTLA.
the photo 13-year-old Joshua Demarest's grandfather wanted to share of him today, his former teacher says he loved the outdoors and soccer pic.twitter.com/4whbVDWV92

— Lindsay Nielsen (@Lindsayon10) December 14, 2016
By the time searchers located the snow pile and removed almost a tonne of snow to uncover the boys, Joshua was unconscious. He later died in hospital.
His friend was alive and conscious, and was treated for hypothermia.
It's a tragic story that repeats itself each year when a huge snowfall presents the irresistible opportunity for igloos and snow caves.
Earlier this year, a dog in Nova Scotia was credited with saving the lives of a father and two young boys who were buried under a heavy mountain of snow after their fort collapsed.
Zoose, a five-year-old golden retriever, quickly began digging Steve Bayers out, who was then able to rescue his son and son's friend.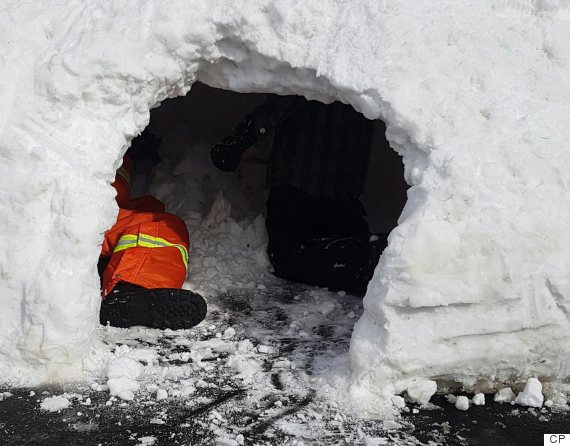 Steve Bayers, his son Ben and a friend were building the large snow fort when the roof caved in, pinning Bayers' arms and legs underneath him. (Photo: CP/Steve Bayers handout)
"I heard a bark and felt a tugging on my jacket, so I knew it was my dog," said Bayers.
Child safety experts urge caretakers to be vigilant about enforcing snow-safety rules and say that children should not be left alone to dig tunnels in the snow.
Snow forts should not have a roof or heavy walls that could fall, they say, and one person should stay outside the fort at all times, just in case they need to call for help.
Or, families can use a structured mold to create a winter fort, like the Play Snow, designed by Canadian Eric Villiard.
Villiard, a former member of the Canadian alpine ski team, was buried in a collapsed snow fort at the age of 10, but was rescued by his dad in a matter of minutes.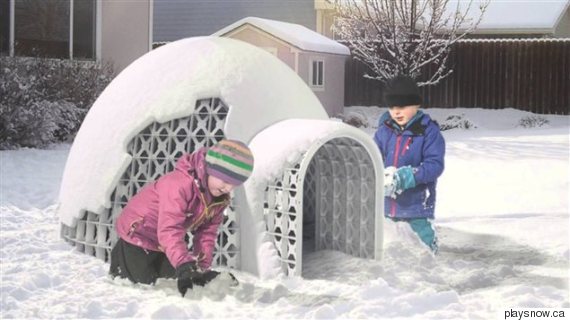 Snow can be packed around the plastic shell of the Play Snow, preventing a collapse and accidental burial. (Photo: PlaySnow.ca)
He told the Montreal Gazette that it was a traumatic childhood experience he would like others to avoid, and he created the Play Snow to prevent accidents.
The plastic shell can withstand more than 1,000 pounds of snow and prevents the collapse of a heavy roof or walls.
Follow The Huffington Post Canada on Facebook, Twitter, and Instagram.
Also on HuffPost